A studio designed Morpho Peleides & Amathonte Butterfly Wallpaper in a flock Silk finish with pearl ink layer
Author: Distil Ennui | Post Date: 05-04-2020
Back in 2015 in collaboration with Cole & Son Wallpaper manufacturers, London; operating since 1875, by appointment to Her Majesty The Queen. This studio design was taken to the test print stage where we ran a few digital proof rolls off the press; the colour in the butterflies on these test rolls did look very flat as you can see below. This would be corrected at the next stage by adding an extra pearl ink print layer masked to the butterflies. This would be done at the next production stage, by producing it in silk or a flock finish but this is a costly move; using ultrachome inks and a deep black velvet flock this would be an incredible execution on the wall with a tangible and tactile depth of touch.

Examining the detail below you can full explore how using waters refractive quality to reduce flare and reflections which intensify the natural colour palette of these rare specimens.
You can find original works available at the Distil Ennui Studio ™ ONLINE SHOP.
Please contact the studio for more information on this design project - info (at) Distil Ennui . com - or - register for email updates HERE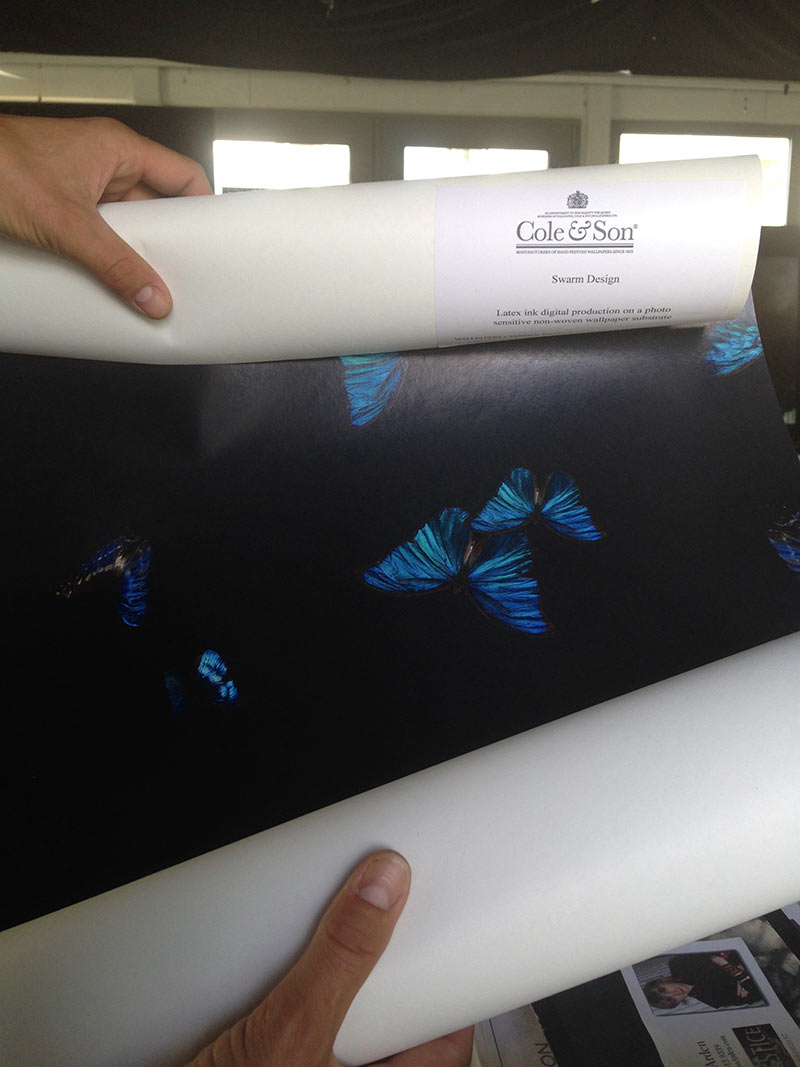 The images used in the design are all underwater analogue photographic plates that have been scanned on a Hasselblad scanner, originating from the series 'Swarm' dated 2008-2012 and 'Transparency of a dream' dated 2013-2016. These butterflies are reared from pupae in the studio, living and working together. For over 9 months the artist did not leave the studio, caring for these delicate creatures night and day, taking only a few rare specimens from the wild under CITES licence from accredited sources; and working alone the artist bred thousands through four parent generations, culminating in the artist releasing over 5,000 Morpho Amathonto and Morpho Peleides big blue butterflies across the skies of london one warm and sunny August morning.