The death of the dream of democracy
Author: Distil Ennui | Post Date: 30-04-2017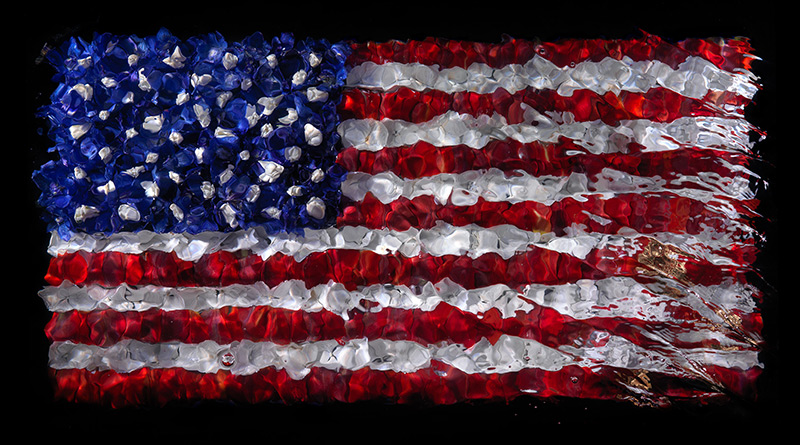 For me this work was important to create and was the very first time in 30 years that political events have influenced such a direct piece. Alexander Hamilton (1757-1804), my namesake was an American statesman and one of the Founding Fathers of the United States. He was an influential interpreter, defender & promoter of the U.S. Constitution, as well as the founder of the nation's financial system, the Federalist Party, the United States Coast Guard, and The New York Post newspaper. The very constitution they created I believe is at threat.
Throughout history there have been many leaders where a love of gold has led them astray. Donald Trump is a reality tv president, for him substance doesn't matter in your message. A presidential process that cuts out the messengers of incisive journalism by going direct to market with his twitter feed, allowing for issue dodging CEO type tactics unseen before in a world leader. Water is a core element of my practice and globally it is in crisis with rising sea levels from global warming, overfishing, plastic pollution and freshwater pollution through deforestation and the clearly linked rising CO2 levels. The paris agreement is a genuine solution towards de-carbonisation.
With President Trump leaving the Paris Agreement he joins only 2 other countries that are not member states; Syria which is at war and Nicaragua which protested against signing for an even more stringent agreement, placing the American Presidents decision as socially diminished at best, re-affirming his public statements of disbelief in the 'hoax' of global warming. What is also of concern is that of a critical situation arising where he is awoken at 3am when something terrible has happened and he needs to make a decision in 5 minutes; I worry that the wording released on twitter will be more carefully considered than an ill fated decision with immeasurable repercussions. His behaviour is that of a tyrant thus far and to commemorate the ideals of the constitution at this specific point 100 days or 6.8% into his 4 year tenure. This is my momento mori 'The death of the dream of democracy'. Made from 2000 flower petals & 24 carat gold, a vanitas work depicting the American stars and stripes flag undulating in a wave of gold etched turbulence.
View 'Death of a dream'.
>>> Thank you for reading, please lets stay connected.
>>> discover more about projects & exhibitions here on the journal.