Artists painterly explorations of life, death and vanity using photography to paint underwater with light
Author: Distil Ennui | Post Date: 18-01-2021
The underwater photography of Alexander James Hamilton
BY CHARLOTTE SIMMONDS PUBLISHED IN NEW STATESMAN 03 MAY 2013
"Still life" is surely one of the finest word couplings in the art historical vocabulary. It is a perfunctory and poetic term, making its meaning clear while leaving room for cerebral ping-pong. It makes you stew. The "still life" must, classically, refer to inanimate objects arranged for a portrait; a freshly cut cantaloupe spilling its seeds beside a dead pheasant. But stretched beyond the literal, the still life seems to scratch at the paradox of representation. What does any work of art do, if not stop time? And what has a work of art achieved, if it cannot make life from inorganic matter - inert smears of pigment, or light imprinted on paper?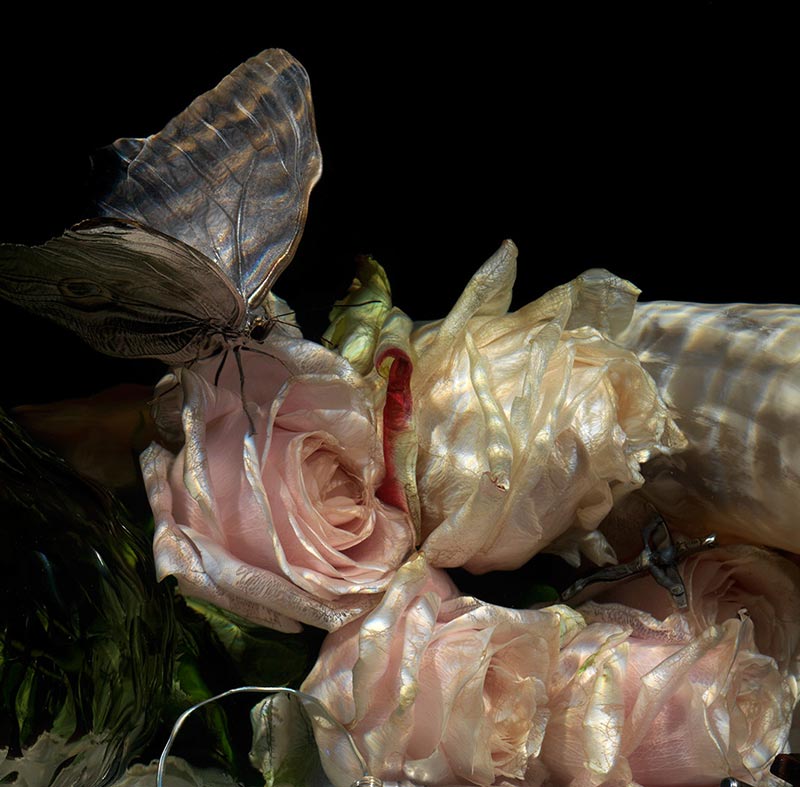 detail of 'Loves Resurrection' from 'Vanitas' 2008 - ongoing.
The still life is often the foundation of a budding artistic practice – in childhood art classes we draw a bowl of fruit or a pile of tulips in the centre of the table. The model doesn't move, it doesn't change, but to succeed our still life must touch reality; we must preserve it. This mode of art-making has long been an exercise for study and skill development, a calm method for practise and improvement. The Italian Renaissance painters and later the Dutch Masters used the still life to show off – how sliver thin could they cut the line between reality and impersonation?
From this was born the Vanitas, a symbolist style of Dutch and Flemmish painting that sought to capture the temporality of earthy goods. Rendered from the biblical "Vanitas vanitatum, omnia vanitas" ("vanity of vanities, all is vanity"), here vanity took the connotation of the superficial, the ephemeral and the fleeting. More modern translations turned the phrase to "all is meaningless". Ticking clocks, human skulls, animal bones, bruised flower petals and tissue-like butterflies became the heavy handed symbols for the delicacy of life. The Vanitas tableau was defined by a meticulous brand of hyper-reality, photorealistic light and shadow, draped cloth you could feel and red meat you could smell.
The work of Alexander James Hamilton, a London-based contemporary artist, draws from this tradition while making a few liberal interpretations. His work objectifies and delights in decaying fruit, cut flowers, insects and animal carcasses, placing them in familiar arrangements with a notable, but nearly often imperceptible difference - they are, in fact, underwater.
James considers his work as much sculptural as it is photographic – each piece is built in his Docklands studio before it is submerged into black, velvet-lined tanks filled with highly purified water. Then they are photographed; often it takes just once or twice to get the perfect shot.
The process has taken him over a decade to perfect and is an attempt to create work that feels at once photographic and painterly. "I started to experiment with different ways of making my works look more like paintings," he tells me, "as well as discovering the properties of water in relation to light and movement as an image is created. The process is very intricate and scientific in its application, which provides a lot of heartache, as well as absolute joy when it all comes together."
James likes leaving viewers "unsettled" and a little unsure of what they are looking at: "Regardless of the size, the subtlety of the works is very much a device used to allow deception to occur. By deception I mean that nine out of ten people that see the works for the first time think they are, in fact, paintings."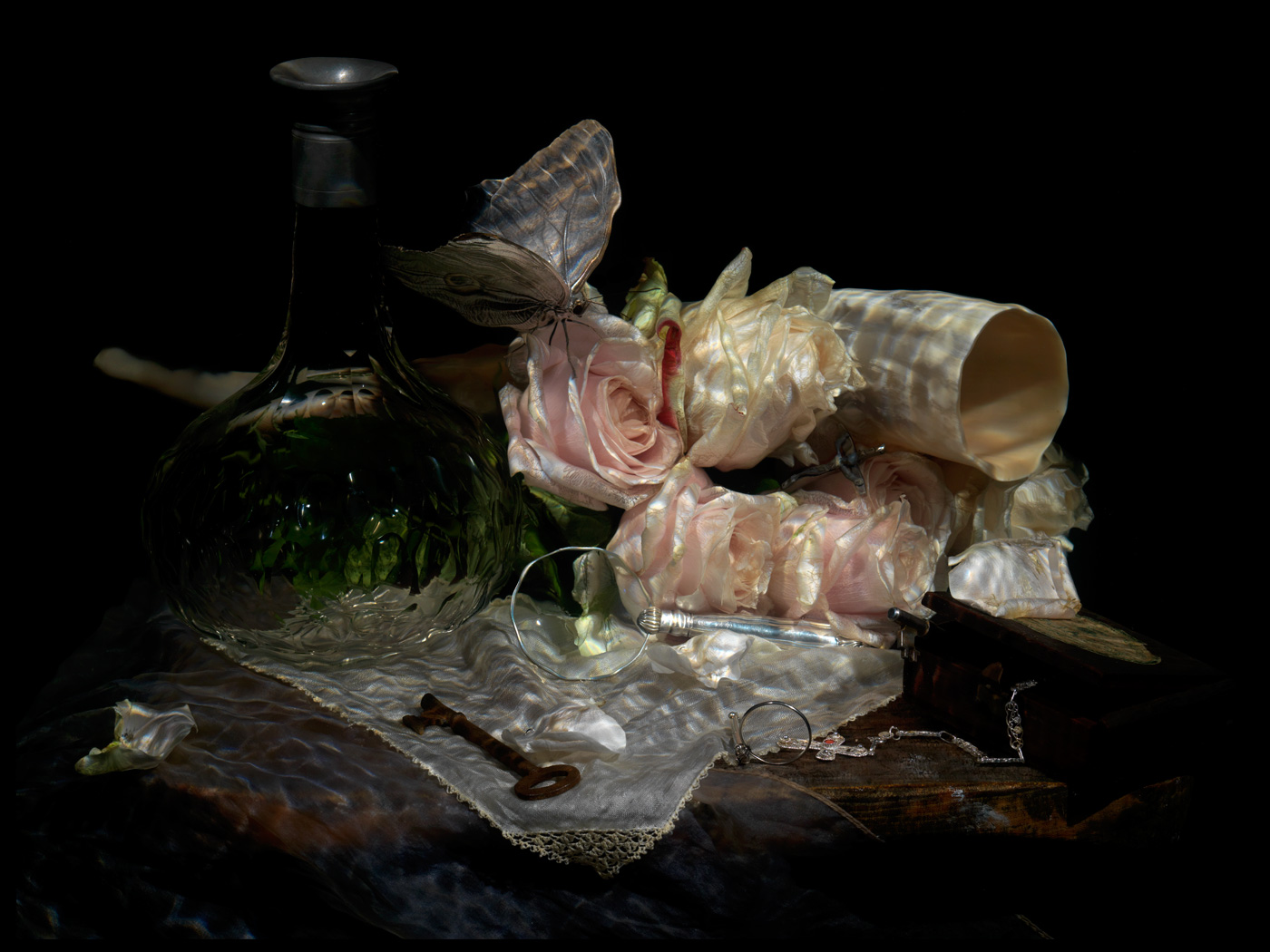 'Loves Resurrection' dated 2013.
He relates to Momento morti ("remember you will die"), another slogan of the Vanitas movement, whose "underlying message is un-replicated elsewhere in the art world - the theme being to remind us of the inevitability of death; and the meaninglessness of a superficial existence. There are several deeply important and moving events in my life which have driven my artistic direction".
James has recently mounted a show, 'Intersection', at the Studio Buildings in Notting Hill. Pictured through water, his living sculptures become cold and seductive, like coy carp in a pond. He describes it like this: "The subtle distortions of light & movement from the waters own wave energy creates a unique effect. The subjects appear to be floating in a black space that neither interferes nor disrupts the subject matter. The collaboration within this void offers a serene and dreamlike sensation."
He adheres to a doctrine of "in camera purity", eschewing digital film and post-production editing in favour of "the caustic chemicals to which you expose these delicate strips of celluloid - all of which are unrepeatable moments in time."
This is hardly surprising if we return, as he does, to the satiric nature of still life as false preservation from the inevitable. Fruit rots, people die, even a painting can be burned or a photograph buried. Life and its records are easily lost. James often destroys his assemblages after he's shot them, sowing and reaping his own "unrepeatable moments in time". Perhaps the cycle make them more beautiful.
.... original New Statesman article can be found at - https://www.newstatesman.com/art-and-design/2013/05/underwater-photography-alexander-james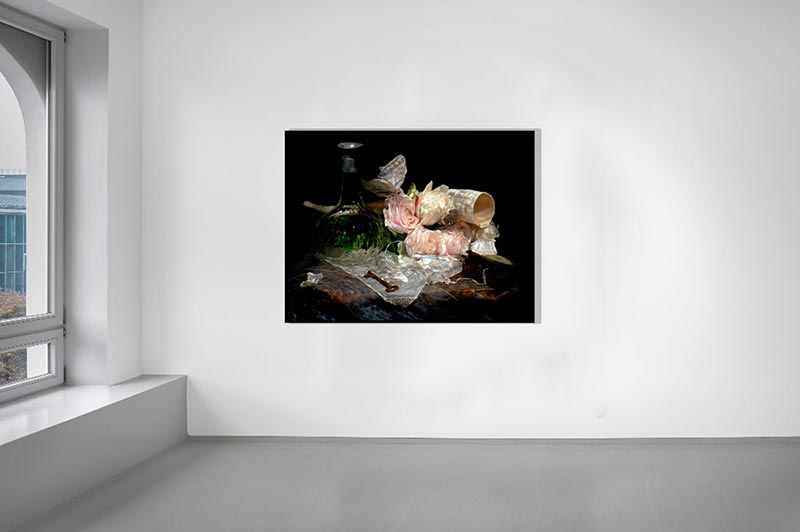 'Loves Resurrection' from 'Vanitas' Edition III, 120 x 90 cms chromogenice print.