Cymatics The Study of Wave Phenomena, a philosophical & artistic view of physics & science in photography
Author: Distil Ennui | Post Date: 13-07-2023
What is a cymatic wave? Coming from the Greek word: κῦμα, is the study of visible sound and vibration at a point of resonance. The term was coined by Hans Jenny (1904-1972) a physician and scientist; stated in '
Cymatics: The Study of Wave Phenomena
', "This is not an unregulated chaos; it is a dynamic but ordered pattern."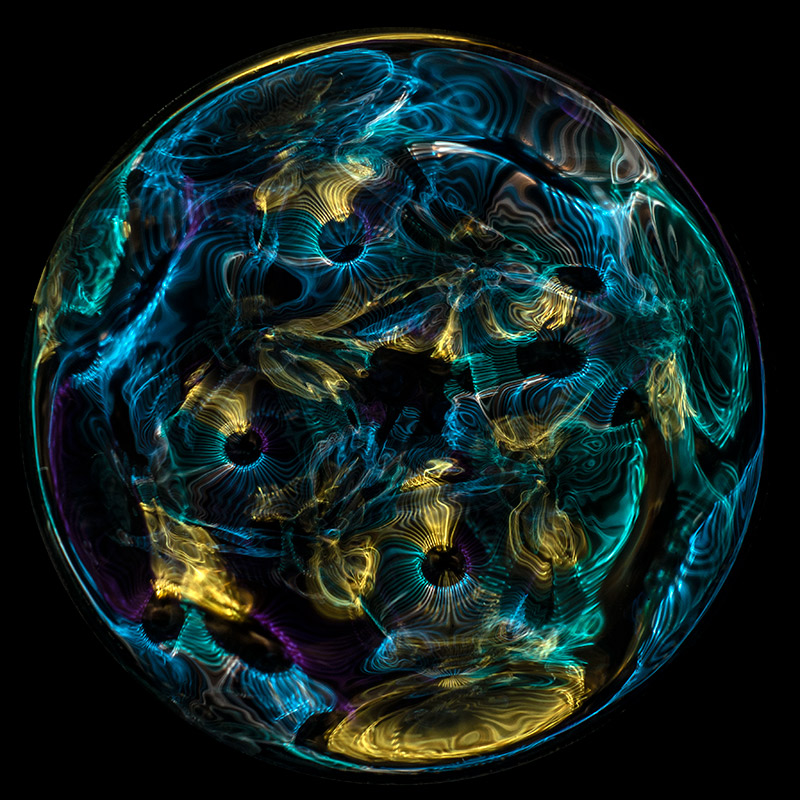 Gravitational Wave, Plate 6513, dated 2023 from the 'Cymatic Water & Light' Series
Cymatics is the study of visible sound and vibration. It explores the patterns and structures formed by sound waves as they interact with different mediums. The term "cymatics" was coined by Hans Jenny, a Swiss physician and natural scientist, in the 1960s. However, the principles and phenomena observed in cymatics have roots in earlier scientific and artistic endeavours and can be traced back to ancient times when scholars and philosophers contemplated the nature of sound and its effects on matter. The Greek philosopher Pythagoras, in the 6th century BCE, recognised the relationship between sound and geometry. He observed that certain musical intervals produced harmonious sounds, which he believed were related to mathematical ratios.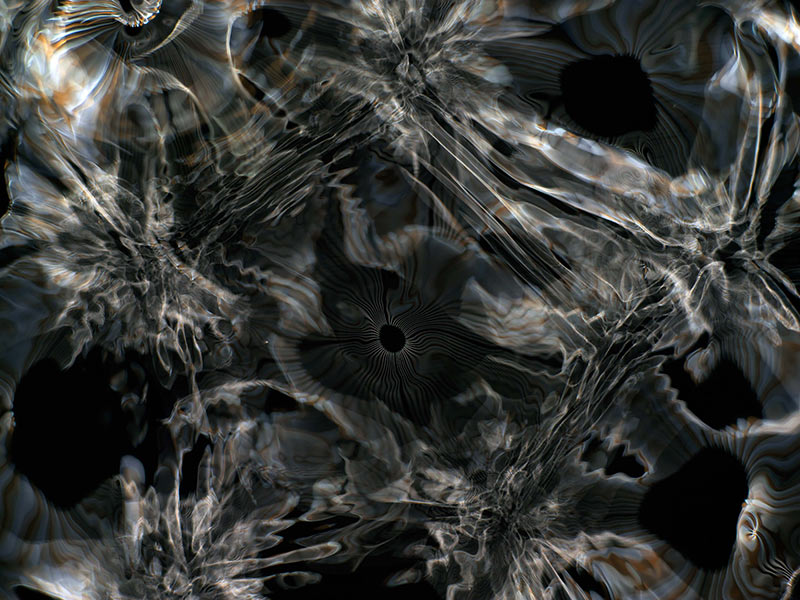 Gravitational Wave,
Plate 0255, dated 2023 from the

'
Cymatic Water & Light' Series
In the 18th century, Ernst Chladni, a German physicist and musician, made significant contributions to the field of cymatics. Chladni conducted experiments where he spread fine sand or powder over metal plates and then vibrated the plates with a violin bow. As a result, the sand would arrange itself into intricate patterns and shapes on the plate's surface. Chladni's experiments demonstrated the visual manifestations of sound waves and laid the foundation for further investigations into cymatics.
During the 19th and early 20th centuries, various scientists, such as August Kundt and Felix Savart, continued to explore the effects of sound on different substances. They conducted experiments using vibrating rods, resonators, and other apparatus to visualise and analyse the patterns created by sound waves.
Hans Jenny, mentioned earlier, played a pivotal role in modern cymatics; A free pdf download of
his writings can be found here
. In the mid-20th century, he expanded upon the earlier works of Chladni and other researchers. Jenny employed more sophisticated techniques and equipment to study the effects of sound on different materials. He used a device called a tonoscope, which consisted of a metal plate attached to a speaker, allowing precise control of the frequencies and amplitudes of the sound waves. By introducing various substances, such as water, sand, and powders, onto the plate's surface, Jenny observed intricate and beautiful patterns emerging in response to specific sound frequencies.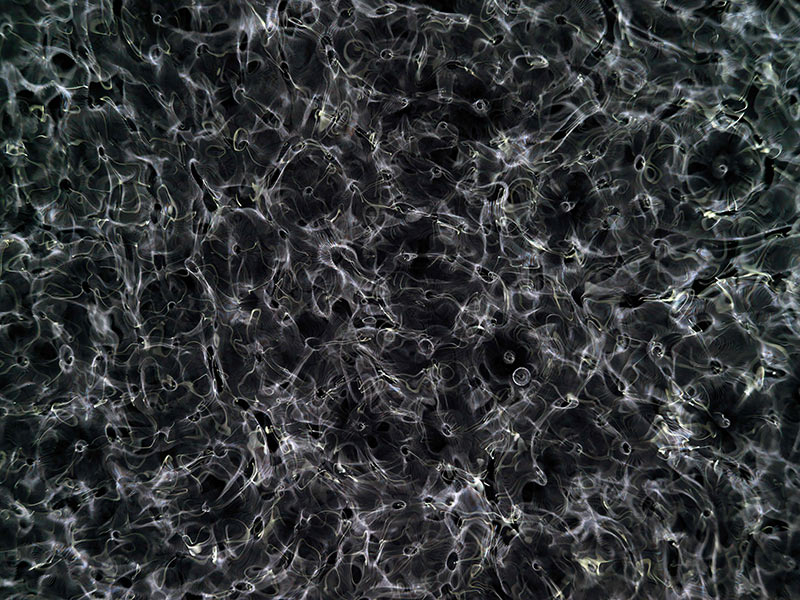 Gravitational Wave,
Plate 0173, dated 2023 from the '
Cymatic Water & Light' Series
Jenny's extensive research and documentation led to the publication of his seminal work, "Cymatics: The Study of Wave Phenomena." In this book, he presented a comprehensive collection of images and descriptions of the patterns and forms generated by sound vibrations. Jenny's work not only contributed to scientific understanding but also attracted interest from artists, musicians, and philosophers, who recognised the aesthetic and philosophical implications of cymatics.
Since Jenny's time, cymatics has continued to evolve and gain recognition in various fields. It has found applications in music, art, architecture, medicine, and even technology. Today, researchers and artists continue to explore the fascinating world of cymatics, using advanced tools and techniques to delve deeper into the relationship between sound, vibration, and form.
So with notable contributions from figures such as Pythagoras, Ernst Chladni, and Hans Jenny. Through their investigations, cymatics has emerged as a multidisciplinary field that combines scientific inquiry, artistic expression, and philosophical contemplation to explore the visible manifestations of sound and vibration.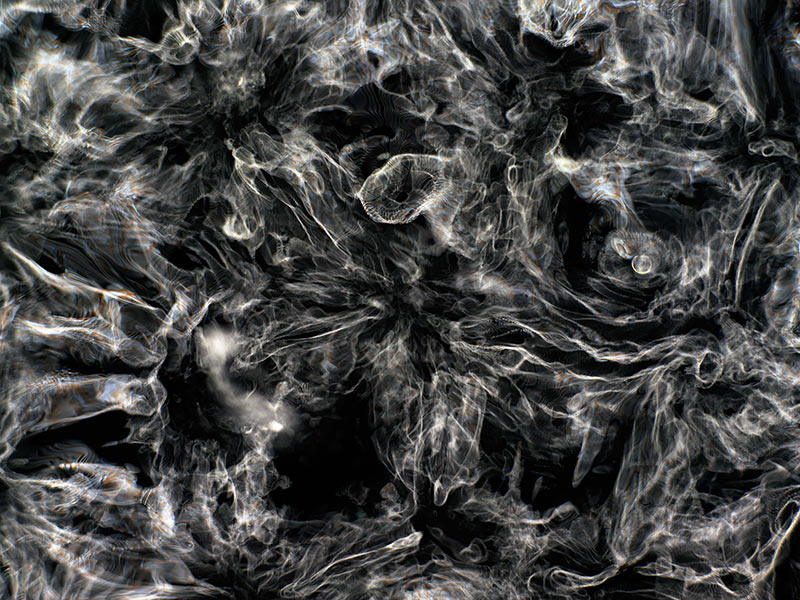 Gravitational Wave,
Plate 0208, dated 2023 from the

'
Cymatic Water & Light' Series
Cymatics is a fascinating field of study that explores the visual manifestations of sound and vibration. It has provided valuable insights into the relationship between sound waves and the physical world, highlighting the intricate patterns and structures that can arise through vibrational interactions. In the works you see here, they are created using only photography, sound and specific volumes of liquids, in shaped petri dishes; no CGI or post production is used, what you see is actually created in real life, then captured on film.
The scientific basis of cymatics is well-established, and researchers have made significant contributions to our understanding of how sound waves can shape and organise matter. The experiments and observations conducted by pioneers like Ernst Chladni and Hans Jenny have provided a solid foundation for the field.
While cymatics has practical applications in fields such as music, architecture, and materials science, some speculative theories and connections have emerged, suggesting potential medical or cosmological implications. It's important to approach these ideas with critical thinking and scientific rigour, as they often lack empirical evidence or widespread acceptance within the scientific community.
Overall, cymatics is an intriguing field that continues to inspire scientists, artists, and researchers to explore the intricate relationship between sound, vibration, and the visible patterns they create.
I wrote
in an earlier piece
about how this links with new scientific discoveries in particular the confirmation of the existence of
gravitational waves
, an invisible (yet incredibly fast) ripple in space. Gravitational waves travel at the speed of light (186,000 miles per second). On June 28 2023 Gravitational waves were detected on earth for the first time, researchers from
Caltech released new data
confirming that the Laser Interferometer Gravitational-wave Observatory (LIGO) in the US and the VIRGO detector in Italy have announced the first evidence of a background of long-wavelength gravitational waves that fills the cosmos. These waves are thought to have been created over eons by supermassive black holes, up to billions of times the mass of our Sun, circling each other before they merge. Everything is linked, nature is danger and beauty intertwined in a never ending dance.
'Dark Matter I' from the
'Fusion'
series
: 4k film : length 10:00 - dated 2021.
Collaboration video artwork with editing artist

Oleg Deetz

& audio landscape by

SubOctane.