Article published in issue 13 of After Nyne Magazine Studio as laboratory
Author: Distil Ennui | Post Date: 21-02-2017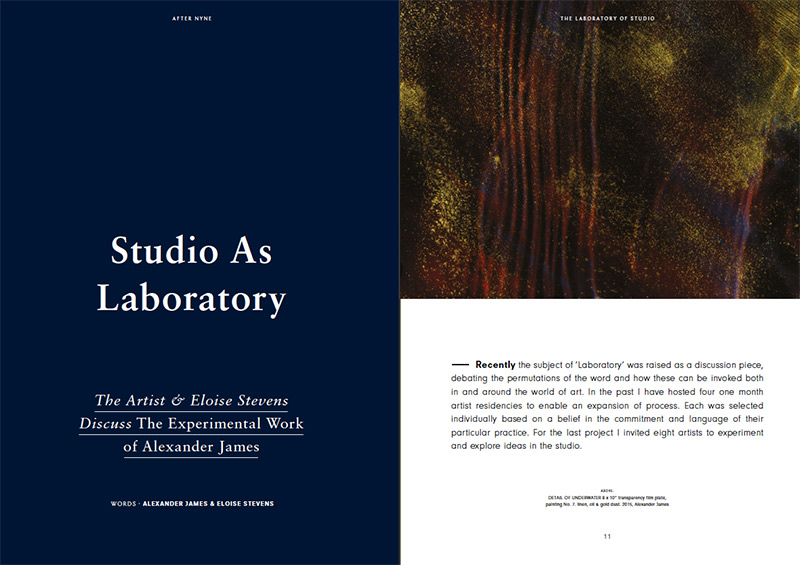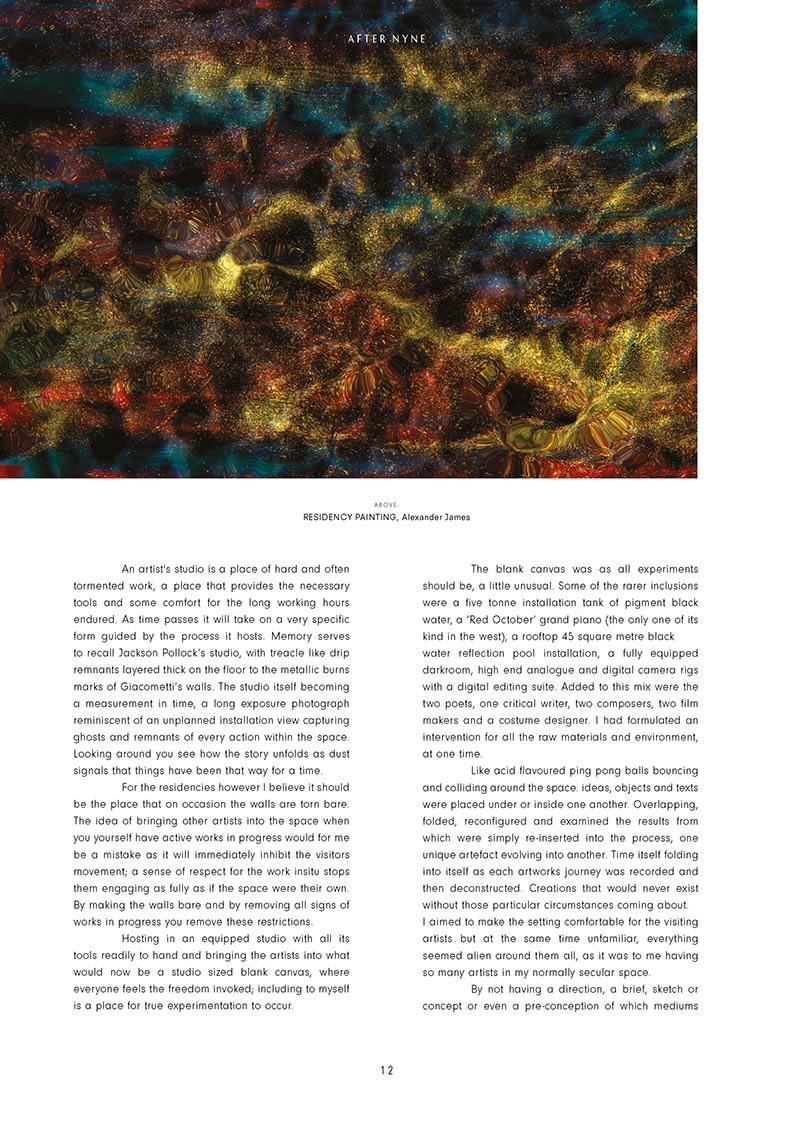 contact us for more information - info (at) Distil Ennui . com
or register for a bi-annual studio update and please let us stay connected.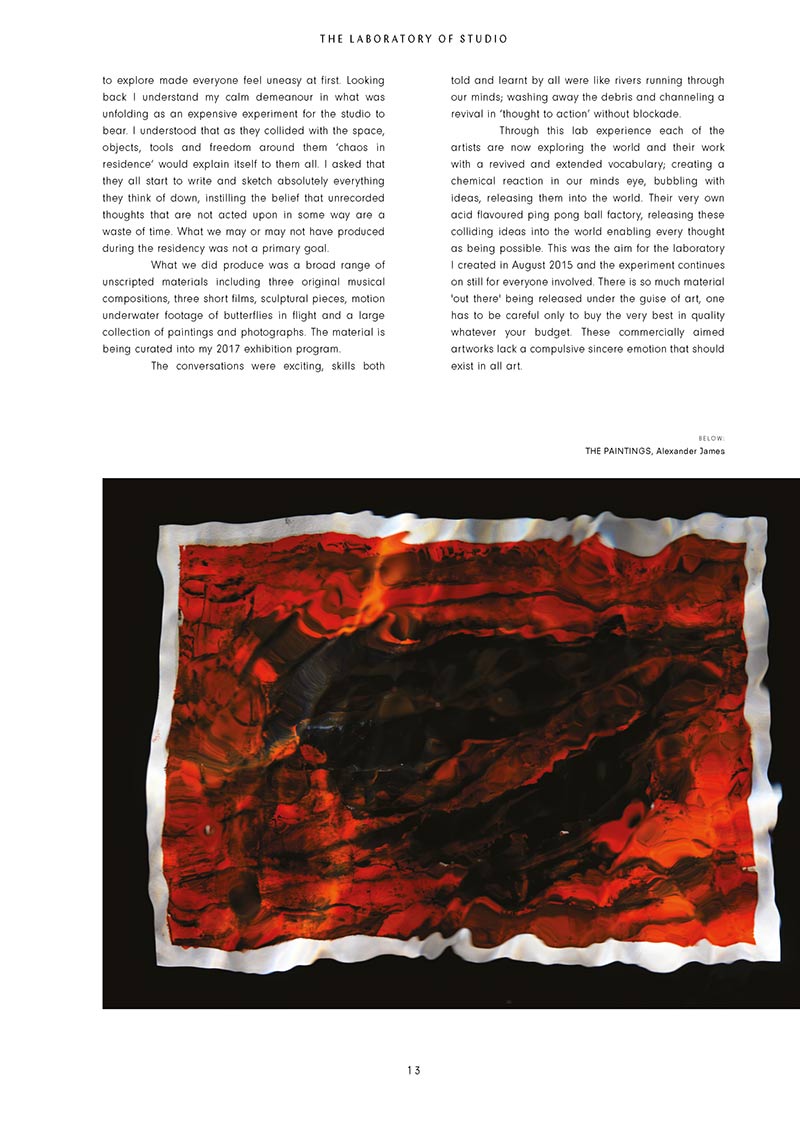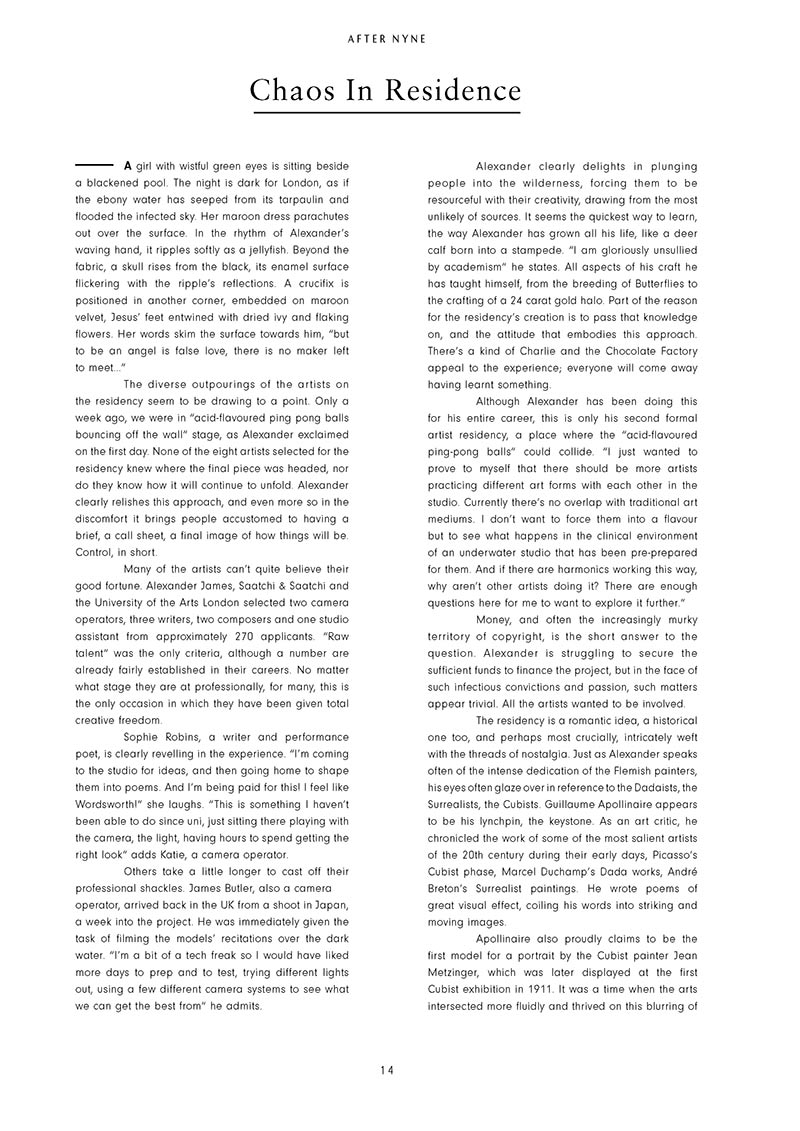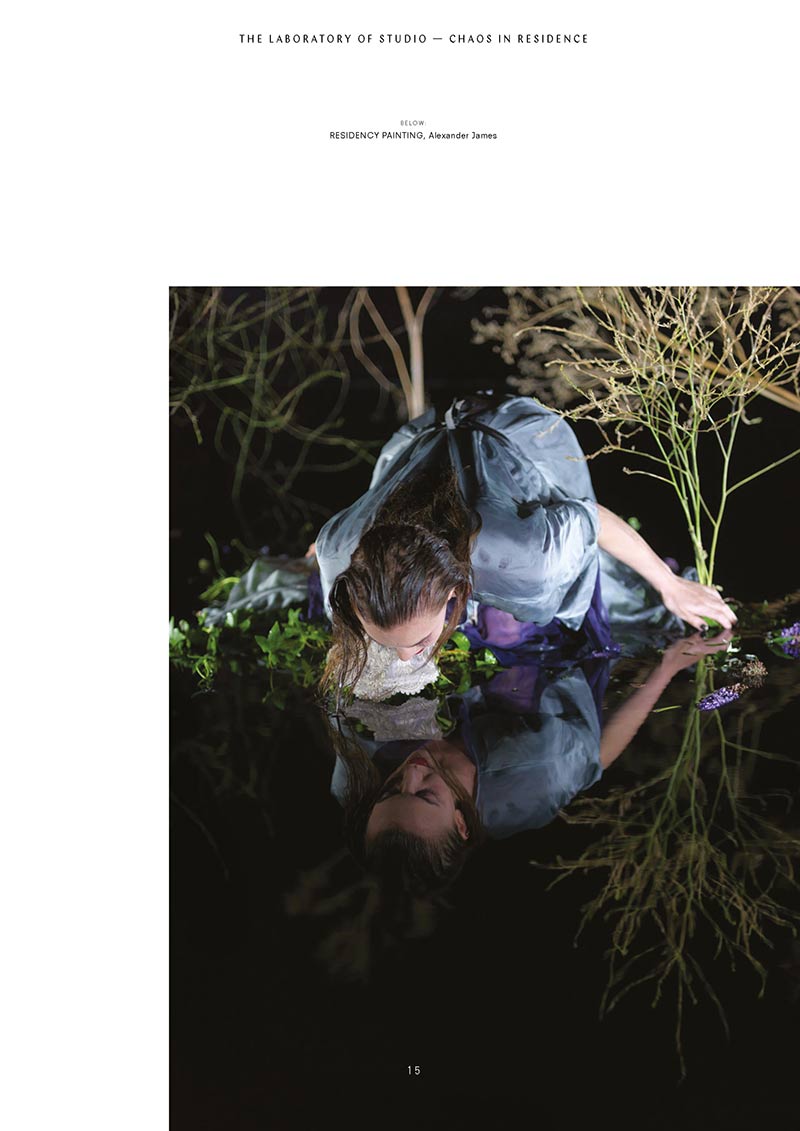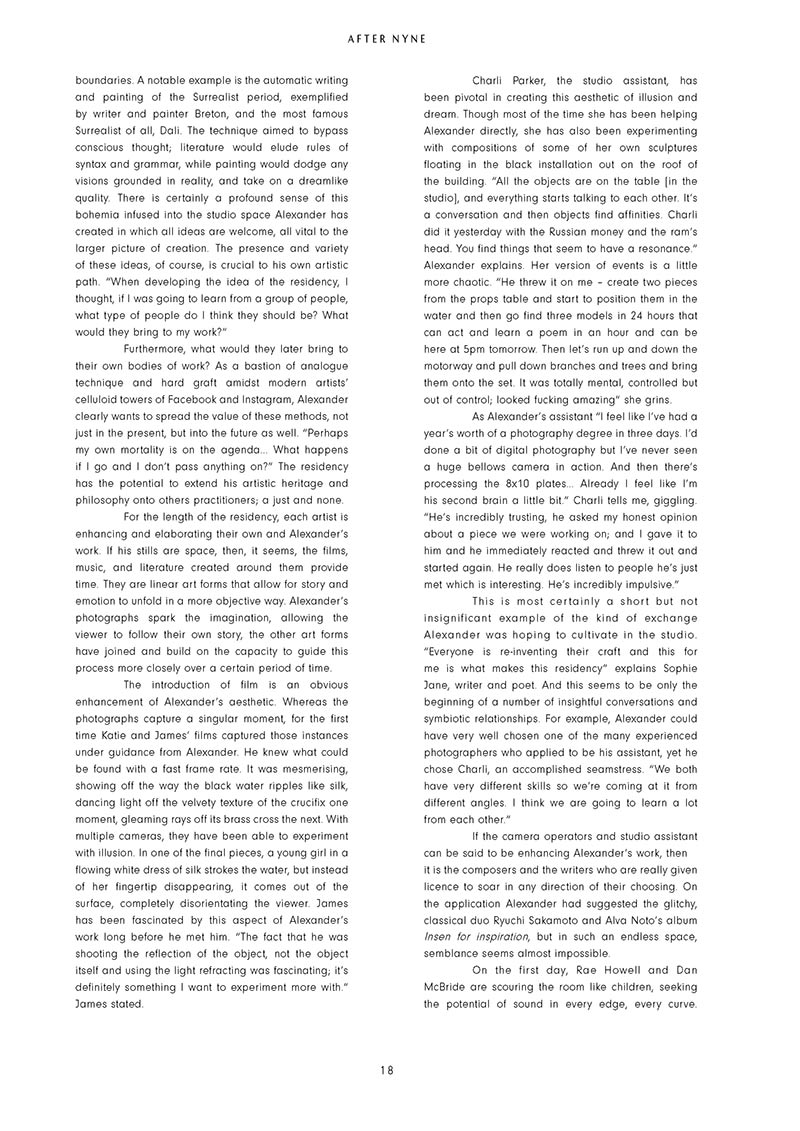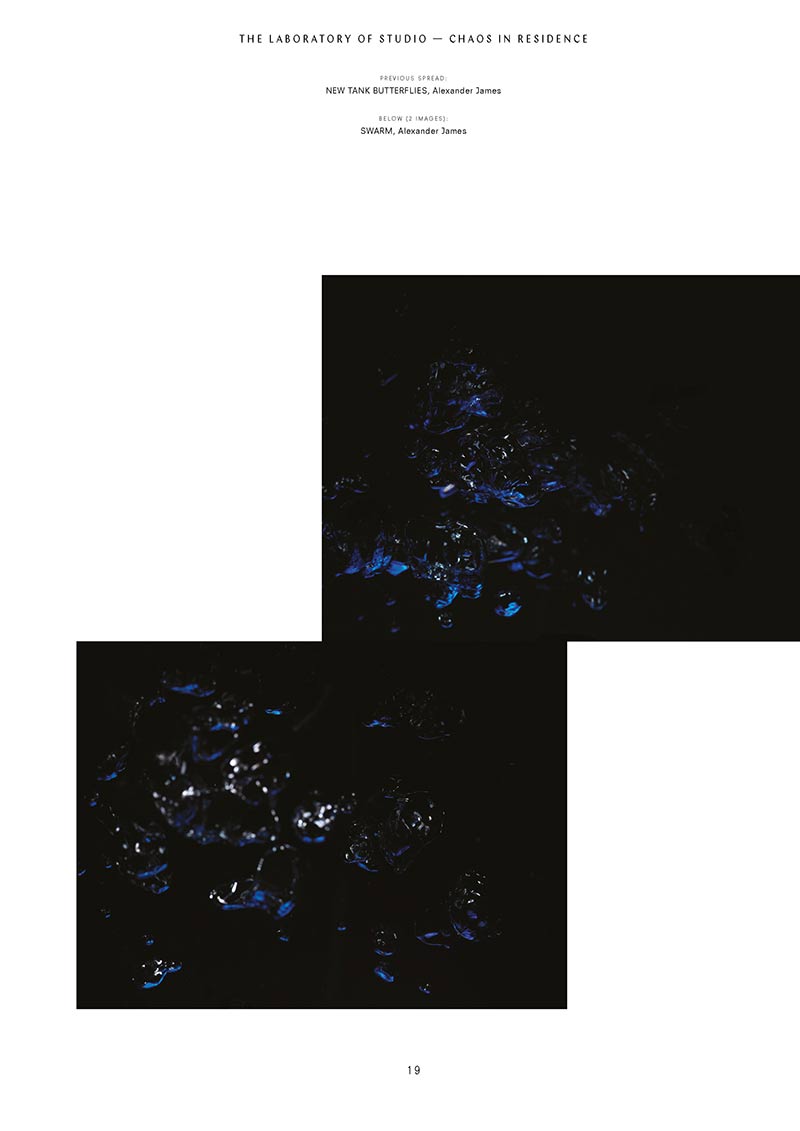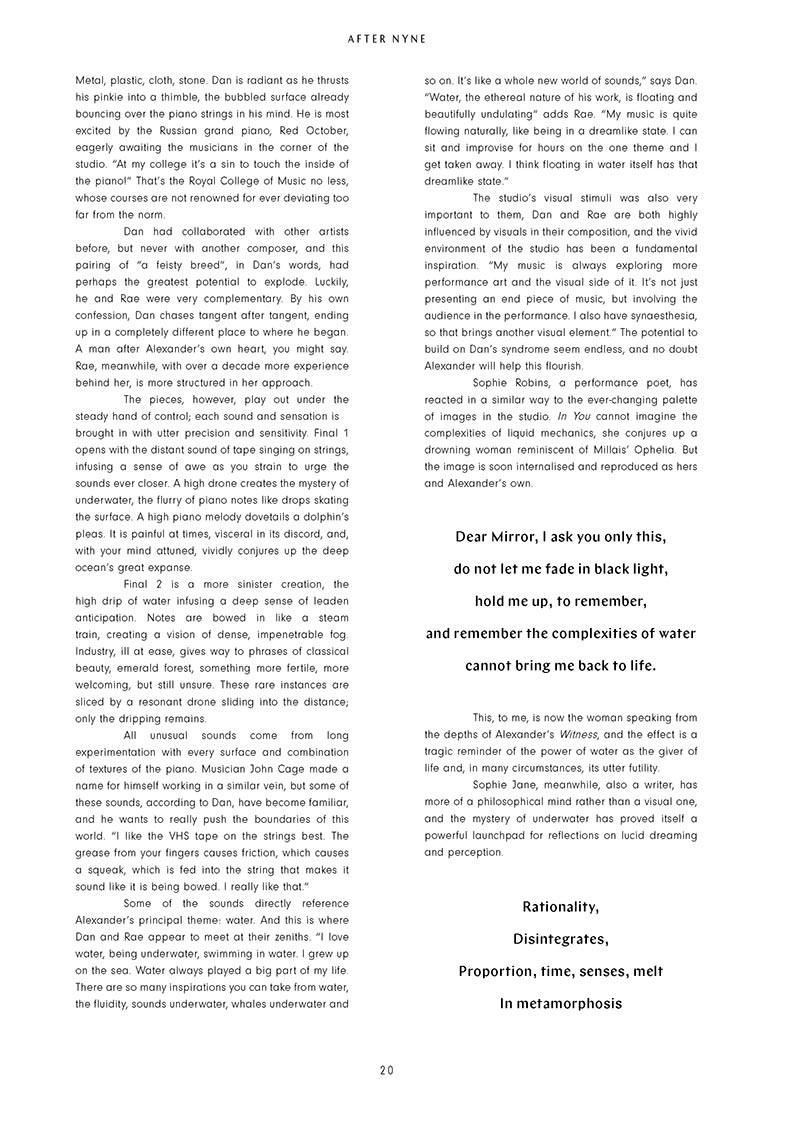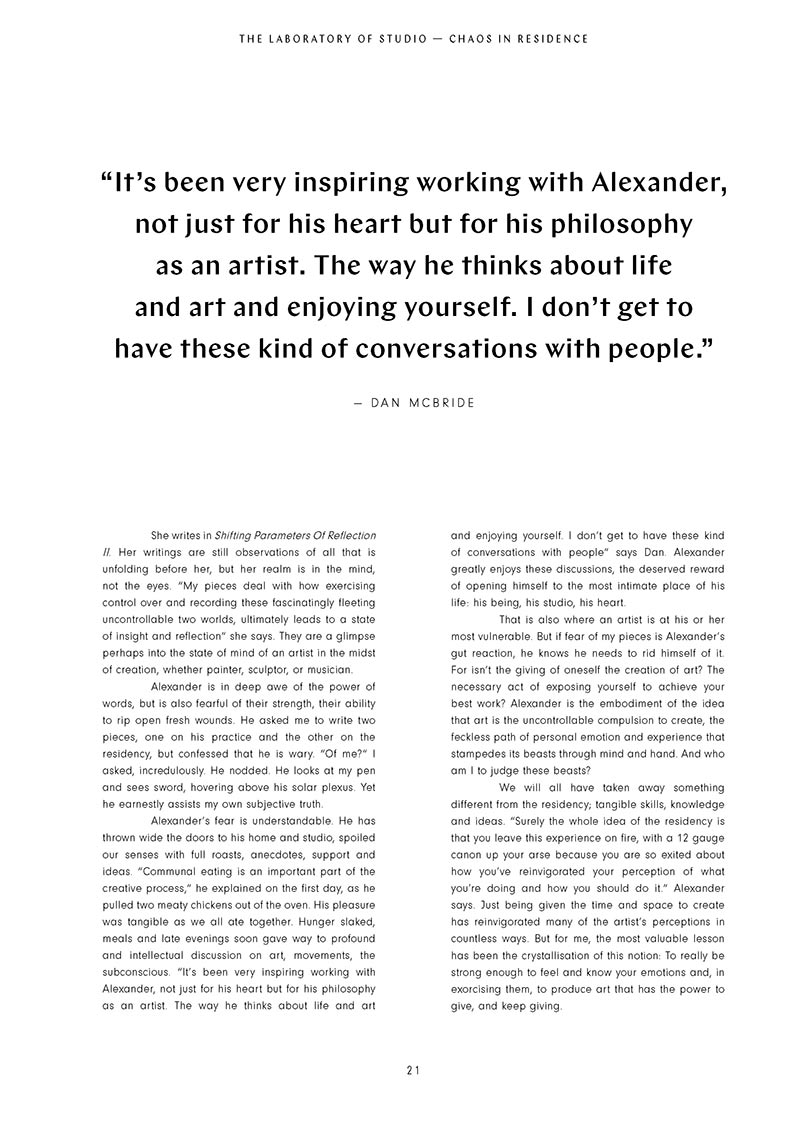 'Studio as laboratory' by Alexander James.

Recently the subject of 'Laboratory' was raised as a discussion piece, debating the permutations of the word and how these can be invoked both in and around the world of art. In the past I have hosted four one month artist residencies to enable an expansion of process. Each was selected individually based on a belief in the commitment and language of their particular practice. For the last project I invited eight artists to experiment and explore ideas in the studio.
An artist's studio is a place of hard and often tormented work, a place that provides the necessary tools and some comfort for the long working hours endured. As time passes it will take on a very specific form guided by the process it hosts. Memory serves to recall Jackson Pollock's studio, with treacle like drip remnants layered thick on the floor to the metallic burns marks of Giacometti's walls. The studio itself becoming a measurement in time, a long exposure photograph reminiscent of an unplanned installation view capturing ghosts and remnants of every action within the space.
Looking around you see how the story unfolds as dust signals that things have been that way for a time. For the residencies however I believe it should be the place that on occasion the walls are torn bare. The idea of bringing other artists into the space when you yourself have active works in progress would for me be a mistake as it will immediately inhibit the visitors movement; a sense of respect for the work insitu stops them engaging as fully as if the space were their own. By making the walls bare and by removing all signs of works in progress you remove these restrictions. Hosting in an equipped studio with all its tools readily to hand and bringing the artists into what would now be a studio sized blank canvas, where everyone feels the freedom invoked; including to myself is a place for true experimentation to occur. The blank canvas was as all experiments should be, a little unusual.
Some of the rarer inclusions were a five tonne installation tank of pigment black water, a 'Red October' grand piano (the only one of its kind in the west), a rooftop 45 square metre black water reflection pool installation, a fully equipped darkroom, high end analogue and digital camera rigs with a digital editing suite. Added to this mix were the two poets, one critical writer, two composers, two film makers and a costume designer. I had formulated an intervention for all the raw materials and environment, at one time. Like acid flavoured ping pong balls bouncing and colliding around the space. ideas, objects and texts were placed under or inside one another. Overlapping, folded, reconfigured and examined the results from which were simply re-inserted into the process, one unique artefact evolving into another. Time itself folding into itself as each artworks journey was recorded and then deconstructed.
Creations that would never exist without those particular circumstances coming about. I aimed to make the setting comfortable for the visiting artists but at the same time unfamiliar, everything seemed alien around them all, as it was to me having so many artists in my normally secular space. By not having a direction, a brief, sketch or concept or even a pre-conception of which mediums to explore made everyone feel uneasy at first. Looking back I understand my calm demeanour in what was unfolding as an expensive experiment for the studio to bear.
I understood that as they collided with the space, objects, tools and freedom around them 'chaos in residence' would explain itself to them all. I asked that they all start to write and sketch absolutely everything they think of down, instilling the belief that unrecorded thoughts that are not acted upon in some way are a waste of time. What we may or may not have produced during the residency was not a primary goal. What we did produce was a broad range of unscripted materials including three original musical compositions, three short films, sculptural pieces, motion underwater footage of butterflies in flight and a large collection of paintings and photographs. The material is being curated into my 2017 exhibition program.
The conversations were exciting, skills both told and learnt by all were like rivers running through our minds; washing away the debris and channeling a revival in 'thought to action' without blockade. Through this lab experience each of the artists are now exploring the world and their work with a revived and extended vocabulary; creating a chemical reaction in our minds eye, bubbling with ideas, releasing them into the world. Their very own acid flavoured ping pong ball factory, releasing these colliding ideas into the world enabling every thought as being possible. This was the aim for the laboratory I created in August 2015 and the experiment continues on still for everyone involved. There is so much material 'out there' being released under the guise of art, one has to be careful only to buy the very best in quality whatever your budget. These commercially aimed artworks lack a compulsive sincere emotion that should exist in all art.
>>> Thank you for reading, please lets stay connected.
>>> discover more about projects & exhibitions here on the journal.