AS AMERICA DECIDES. I explore the American Stars and Stripes Flag by making it from flower petals.
Author: Distil Ennui | Post Date: 04-11-2020
AS AMERICA DECIDES.... As I write this text, the fate of the US election is unfolding in the press with no clear winner until the counting closes. Water is a core element of my practice and globally it is in crisis with rising sea levels from global warming, overfishing, plastic pollution and freshwater pollution through deforestation and the clearly linked rising CO2 levels. The paris agreement is a genuine solution towards de-carbonisation.

Back in early 2019 the US president began the process of withdrawing from the Paris Agreement, notifying the UN of its intention to leave, as other countries express regret and disappointment at the move. I wrote about this decision back in 2017 and again in 2015 when president Trump announced his campaign policy of withdrawing from the Paris Agreement once in power, a decision that for me was undoubtably a blow to the advocation of green policy change around the world.

In reaction to the announcement I created the series 'Dream of democracy'. The American stars and stripes flag re-created as a sculpture from thousands of flower petals laced with pure gold the now recognised brand colour of President Trump. Here the flag is inverted a time honoured naval signal, for me depicting a democracy in distress.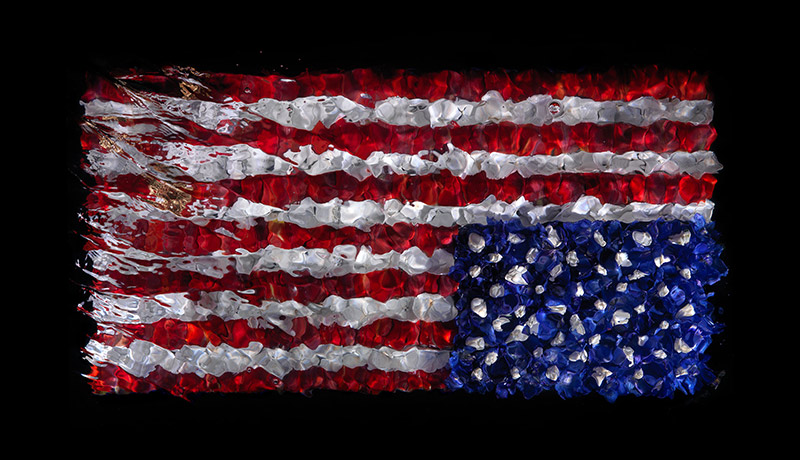 This is my momento mori 'The death of the dream of democracy'. A vanitas work depicting the American stars and stripes flag made of decaying flowers undulating in a wave of gold etched turbulence. The flower installation after being photographed was placed in an old beaten up leather suitcase and presented in the exhibition ready for travel.

Throughout history there have been many leaders where a love of gold has led them astray. Donald Trump is seen as a reality tv president, for him substance doesn't matter in your message. A presidential process that cuts out the messengers of incisive journalism by going direct to market with his twitter feed, allowing for issue dodging CEO type tactics unseen before in a world leader.
Common sense dictates that with the current species extinctions rate, fresh and salt water degradation, plastic and commercial pollution together with the now clearly evident global warming signs. All politicians regardless of direction, should stand as custodians for the avoidance of ecocide at all costs.
Ask for more information on the availability of a unique print - info (at) Distil Ennui . com
or register for the bi-annual studio update email and stay in touch.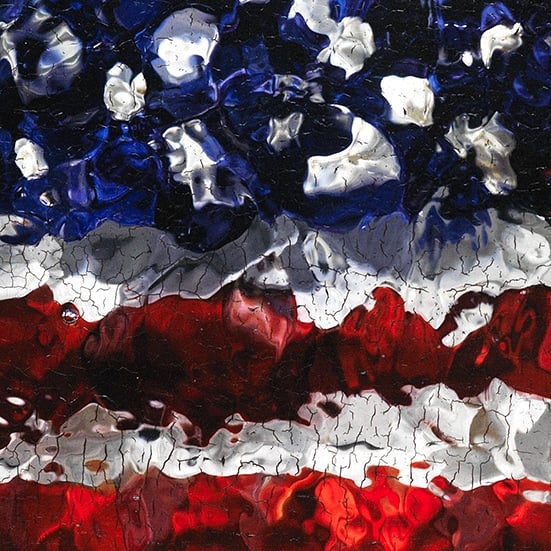 #ecocide #ParisAccord #ParisAgreement #starsandstripes #vote2020 #environment #cleanocean #stoppollution