Carbon neutral recycling studio tackling Plastic Aluminium pollution & global warming from carbon emissions
Author: Distil Ennui | Post Date: 01-07-2021
WELCOME TO MAKERS PLACE - a brief introduction to this project that helps oceans stay clean for habitat & species protection from pollution. Makers Place II is already underway, join us on Patreon to support these projects.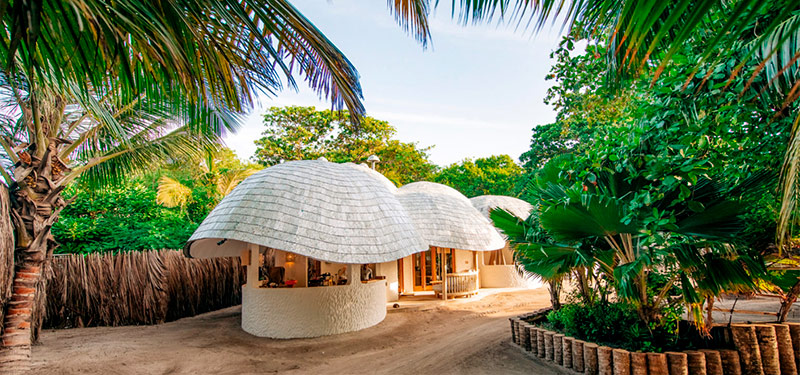 the organic design of makers place seen here just days after building completion at Soneva Fushi
Aside of the current Covid pandemic, there are two main conversations that have dominated global news for the past 2 years, and will continue to do so for many years to come on an ever increasing scale; that of plastic pollution and global warming relating to carbon emissions.
I founded the Distil Ennui Studio™ back in 1990; during the years since I have been creating and exhibiting around the world, working on many community and environmental based projects, hosting recycling design workshops and spearheading an international artist residency program; I am quite dizzy just thinking about it as I write these words. Throughout this time, at the centre of my practice water has been a core element; seeing first hand the effects of pollution and species extinction. In doing so from the very beginning I have been a vocal ambassador of the 3R Strategy, that of Reduce, Reuse and Recycle. The demise in river water quality around the world has been profound beyond words in my lifetime alone. Fish numbers have virtually disappeared from most of the worlds great oceans and plastic pollution has entered the food chain at every level from the microscopic to the top predators.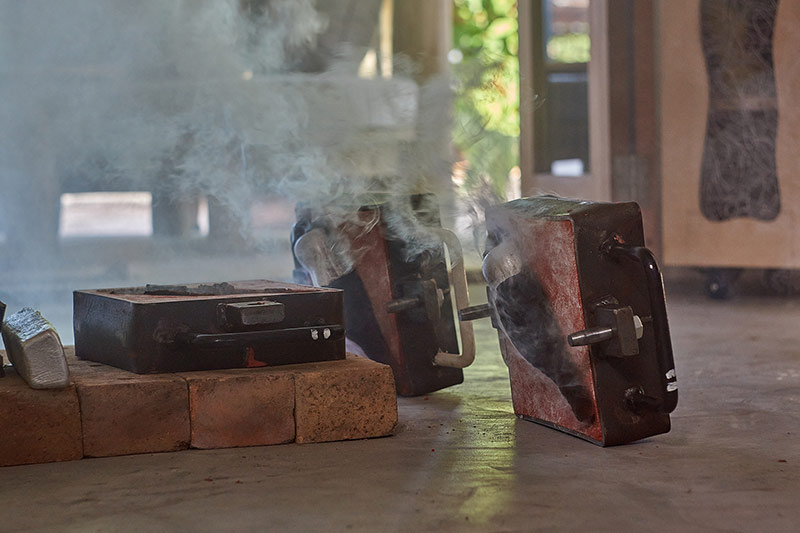 sand casting boxes cool down with new aluminium sculptures inside
It is will great sadness that the drinks industry has attributed to 15% of the worlds global warming over the past 10 years alone. To see that still to this date over 90% of these valuable and difficult to produce materials - aluminium and plastic from the drinks industry are either buried in land fill sites, burned or dumped in the ocean. (Supporting Data here). To put that into daily numbers, over 13 Billion plastic drinks containers are made every single daye alone.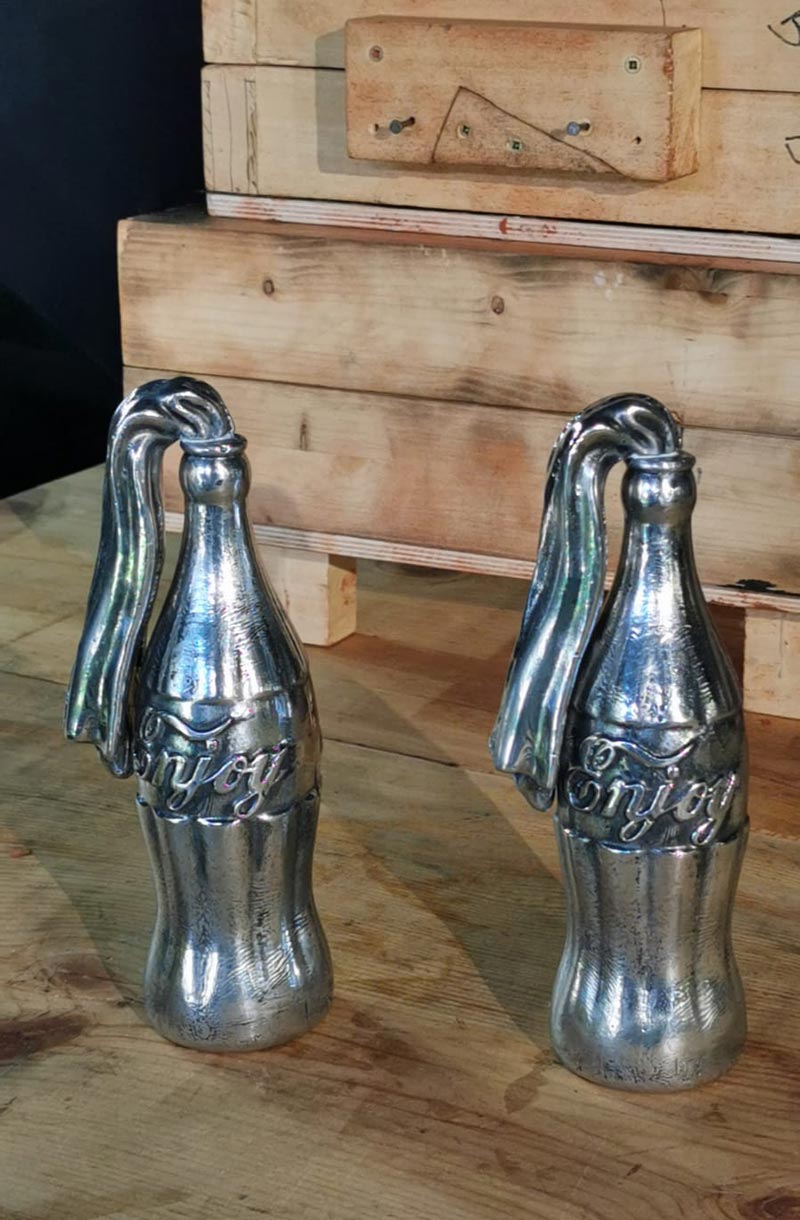 molotov petrol bomb 'Enjoy' in the form of a coke bottle made from recycled coca cola cans
In the late 1980's I kayaked alone and unsupported for 9 months from the north to the south atolls of the Maldives creating my own water using only the sun and living within a zero footprint framework; giving away aluminium can crushers that I made myself to the few hotels that were based in the region at the time. I was trying to suggest an ethical policy that when guests had their dinner that the crushed drinks cans were brought to the table with the bill at the end of their meal. This way the waste could be taken back home in their suitcases to home countries where recycling of the aluminium could be more readily accessed.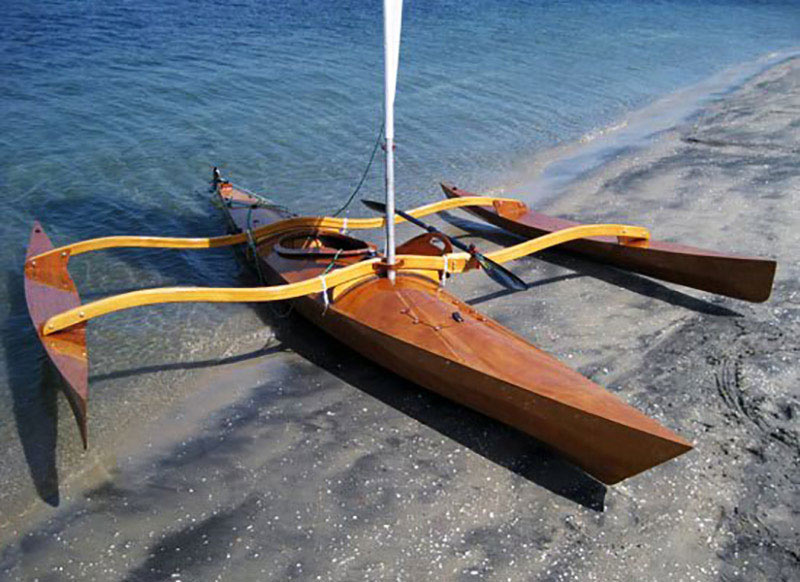 the hand built outrigger kayak used to travel across the Maldives creating 'Visions from the shoreline'
Most hotels at the time simply transported their waste to a close proximity uninhabited virgin island and buried it, this caused a lot of island erosion and many smaller islands simply disappeared with the next storm that arrived, washing their rubbish straight into the ocean. Causing a dramatic change in island numbers at the time.
During this time I also created a series of underwater sculptures and natural interventions made from collected marine debris. Then in 2017 I re-visited the exact same locations by kayak again and created a project titled 'Visions from the shoreline' exploring the same issue with sculptural and photographic interventions; from which I donated 20 artworks to the Soneva Namoona Foundation raising $100,000 USD to help fund this projects future development, you can read about this donation and the reasoning behind it here.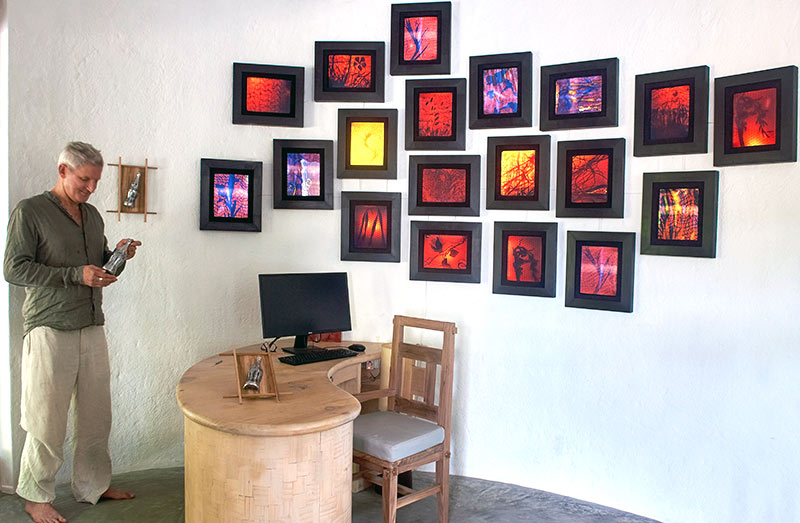 holding one of the first 'Drink Less' pieces in front of the donated 'Visions from the shoreline' artworks
To place the problem in real numbers, it takes just 1/25th of the energy to recycle an aluminium drinks can back into a new one, rather than produce a new one from scratch. Also 1/20th of the energy is needed for a plastic bottle to be re-born. Every single piece of single use packaging that is not recycled is without doubt adding exponentially to the global warming problem that we are all facing today.
One subject that is rarely mentioned on the news is Thermal Expansion, we all hear about the glaciers melting and of course that is a serious problem, but Thermal Expansion is the real threat to the Maldives and other island nations. As the oceans water molecules heat up, they contain more energy and expand apart from each other causing the most meaningful impact on rising sea levels.
The Maldives is 1,600 klms from the nearest landfall and currently there are no facilities for recycling plastic or aluminium, or indeed creating fresh water on the local islands; everything is brought across by boat in plastic bottles. So it is sad to quantify that a large proportion of the plastic and aluminium 'single use' packaging brought here that has no tangible end of life use. Of all the bottled water sold around the world in plastic bottles, 90% is in fact just plain tap water, such a damaging industry all for the convenience of you or I 'the consumer' not having to carry your own 'life can' with you at all times and filtering your own daily water consumption.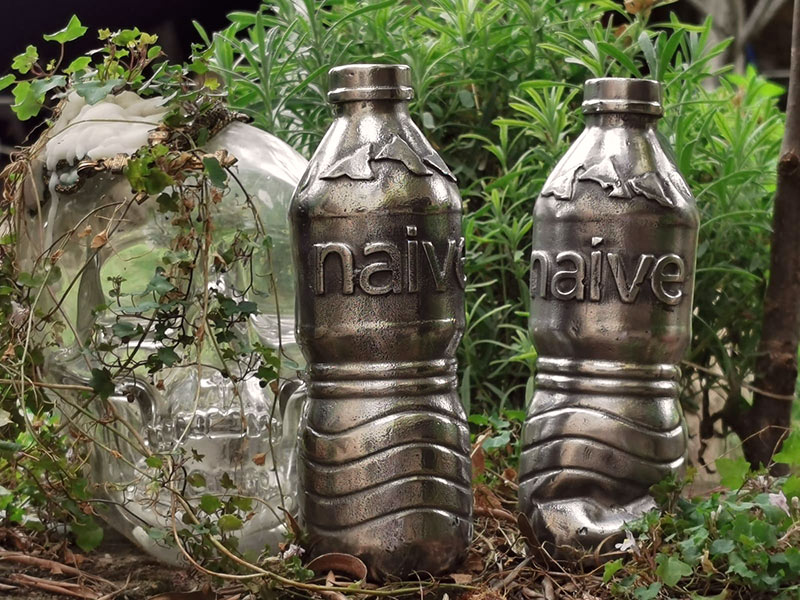 'The Naive Twins' recycled aluminium sculptural works, 19 x 6.5 cms

I have always stated from the early days of creating works that we go to war over access to oil; and it is only a matter of time before countries and communities across the globe will have the same conflicts over access to clean water. In The Maldives this creates a double-edged sword, having to bring bottled water in to survive and yet having no way of dealing with the single use packaging once the product is consumed.
I have made it my life's work to explore and protect global waters through artistic interventions and creating explorative bodies of work using the signature of water at the core of my practice in locations all around the world. 'Makers Place' in particular will help in part to recycle and enable a full circle to these packaging materials arriving on these fragile lands. 'Makers Place' is a carbon neutral facility that has been designed from the ground up, with machinery and processes specifically built for an island based methodology; designed and hand fabricated by myself and my supply chain team.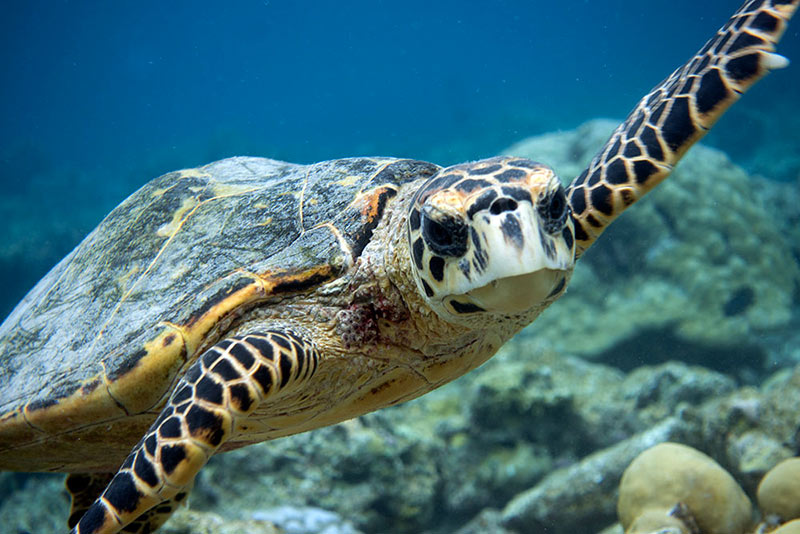 here a HawksBill Sea Turtle photographed just metres from the Makers Place Recycling Studio
The facility includes a closed loop wash station that handles the final stage cleaning of materials using a custom designed 2 stage filtration system with a granule media in one filter and coconut charcoal in the other; charcoal especially coconut charcoal is a wonderful filtration material; just one square centimetre can have as much as 500 metres of microscopic tubes inside which will help remove any diluted organic materials and capture them to keep the water in good condition for many months recycled use; if you research other small scale recycling facilities from anywhere around the world, you will see that this is a world first as the industry is very water intensive. For island nations such as here water is generally created by a desalination process, so every drop saved goes towards the green aspirations enabled within this facility.
I also have installed a modified VOC (volatile organic compound) exhaust system, using a similar technology of activated carbon granules to capture harmful fumes and carbon emissions which occur when we melt the shredded aluminium cans that contain enamel painted exteriors and cellulose based lining material; recycling plastic also releases harmful VOC fumes which are profoundly damaging to human health and the environment, these too are captured by the smoke recovery system - leaving only clean air to leave the studio.
For the water and VOC carbon filters, at the end of their life we will create concrete building blocks and colour them red and place a waterproofing addictive inside to use around the islands for construction purposes; locking their carbon emissions and harmful chemical waste away to protect the environment forever. By colouring the blocks red, we will know in future redevelopment that should we discover a red brick used in a building, we know to keep it intact and reuse it on the new site - protecting the facilities green integrity for future generations.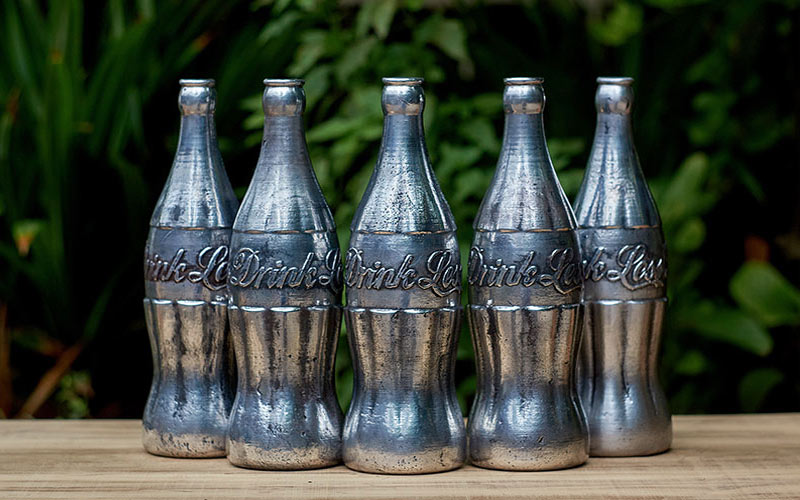 'Drink Less' made from recycled coca cola aluminium cans
Contact us to check for availability of this piece.
In just our first three days of operations this facility recycled 15,000 aluminium cans alone. With those cans I have completed a series of 'Drink Less' aluminium sculptures based on the old glass style classic coke bottle with the font and text re-invented to perhaps awaken a wider audience to the perils of engaging with the drinks industry without thinking of the damage to the environment. Buy a 'life can' and drink filtered water its better for you and the environment.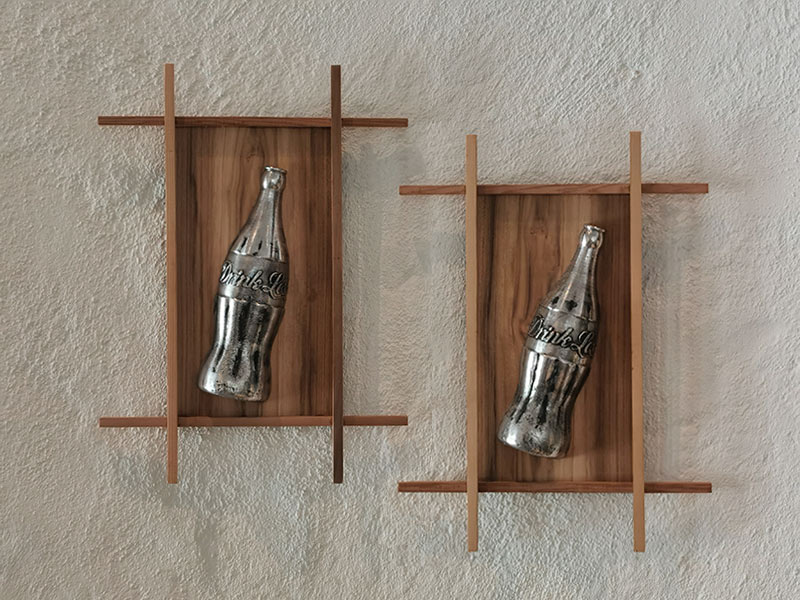 shown here 'Drink Less' half bottle, recycled aluminium cans and artist made Cedar frame.
This project is all about enabling a better end of life for these products and protecting these treasured lands where I have for over 35 years been advocating for change, at a community, island and government level.
'The greatest threat to our planet, is that we all think someone else will save it. I feel compelled in attempting to face a global issue on a personal scale' AJH
thanks for reading, please lets stay connected.