environmental ecocide artist relocates studio to the forests of Siberia in winter exploring enthalpy of fusion
Author: Distil Ennui | Post Date: 12-12-2014
An important part of the artistic process of Alexander James is to relocate his studio to that best suited for each project. This allows the environment itself to directly infuse his work resulting in extraordinarily unique environmental collaborations. In January 2015 during the depths of winter he relocates to a remote boat house in Siberia on the Yenesei river near Krasnoyarsk. He will do this in order to create a new body of work focused on two very Siberian of things 'Oil + Water' held in vast quantities within these lands.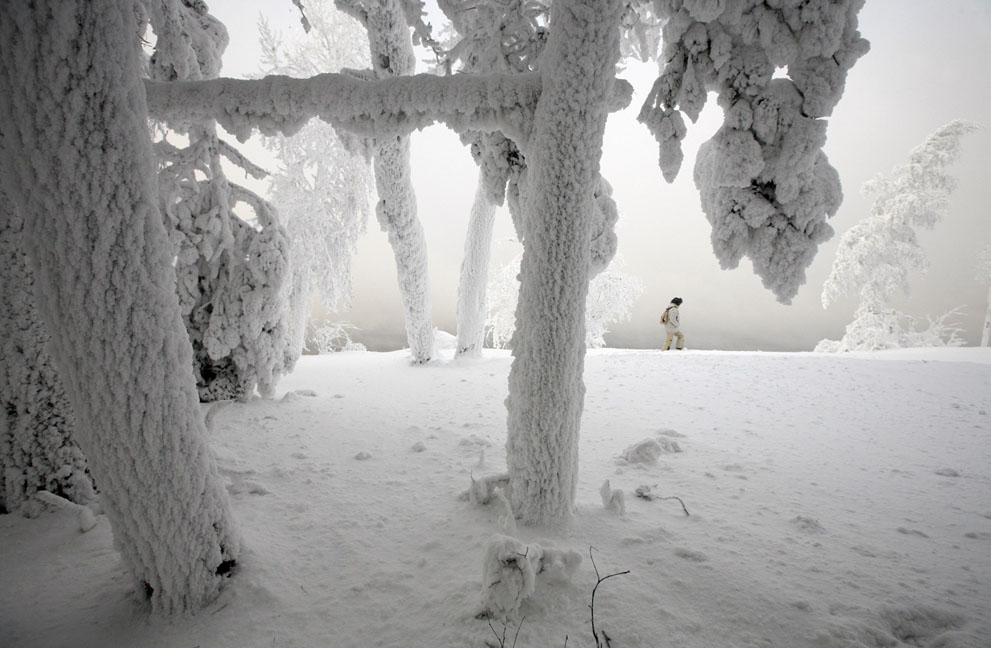 Siberia is one of the few places on the planet where crude oil is able to freeze naturally at -50 degrees, Alexander will use this location based collaboration to literally carve with slabs of solid oil, treating them like marble. These forms will then be then sealed in the pure waters of the Yenesei River flowing in from Mongolia; sealed in a frozen stasis and documented on film. Alexander has gained international recognition for his works which defy categorisation. His artistic process begins with creating meticulously crafted sculptural scenes; involving hand made dresses, breeding butterflies, growing flowers and even to the making of Ophelia's 24 carat gold halo; this is a monastically dedicated process involving prolonged periods of studio confinement; this process imbues a deep and harmonious dialogue with the chosen subject that is ultimately to be encased within a vast black underwater landscape. 'Black is boundless in its absolute and pure potential, it always forms my canvas. I seem to be on a path dedicated to spending a lifetime trying to cross out the boundaries between sculpture, painting and photography; the more obscured they are, the more you will want to explore.' Alexander James, April 2014
NOTES TO EDITORS This relocation to a Siberian boat house follows on from the artist's critically-acclaimed exhibition 'Rastvorennaya Pechal', which took place in Moscow in April 2014 at Triumph Gallery, one of only three British artists to have had solo shows in this prestigious space; previously Damien Hirst and The Chapman Brothers. The cultural impact of this show was supported by written texts by Andrey Tolstoy, nee. Leo Tolstoy respected arts academic and author of over 100 titles. Alexander bought a truck and drove alone to Moscow taking on a very raw space that had been unused for 70 years at the symbolic Red October chocolate factory which survived both the Tzars and communism. There for six months through the depth of winter with no heating, toilet or shower; battling against all the odds to create 'Rastvorennaya Pechal' his most ambitious of projects yet.
View the fnished collection of works 'Oil + Water'
>>> Thank you for reading, please lets stay connected.
>>> discover more about projects & exhibitions here on the journal.