How being published online can damage your digital profile moving forward
Author: Distil Ennui | Post Date: 05-01-2021
Creatives having their work published online to gain publicity could actually be doing the exact opposite, especially if you manage your own website.
Every year in the first two weeks of January I dedicate time to sweeping the internet for instances of my work appearing online and checking that they are legitimate uses and the work is correctly attributed. This year due to the pandemic and everyone working remotely, this seems to have accelerated the instances of moral or copyright breach. So far in only 4 hours I have found over 6,000 instances of my work online without even my name, let alone a link to the studio website. These range from small blogging sites to many professional organisations, who frankly should know better.
To do these checks I use www.Images.Google.com, where you can upload an image that you may be worried about mis-use and the browser search engine will return all instances of the image being used online; 90% of those found are unaccreddited. To those of you who run their own digital platforms, you know how much work is involved in building domain authority and position to register with online searches. Link building from creator attribution is a key element, it is a lengthy task to reach out to them all and politely ask to attribute the work correctly, most of them oblige immediately. Those that do not are dealt with by using the DCMA take down notice, This is a powerful tool that enables you to formally write to the websites hosting company (GoDaddy/AOL etc), this formal notice gives 48 hours to remove the offending material or pages. So if the link / attribution does not appear after we politely request it, the website is removed by their host. If the hosts fail to remove the page they then become liable for any damages claim, which of course they want to avoid, so the page is forcably removed.
Here is just one simple but rather worrying example. in August 2016 British Amateur Photographer's editor approached me and asked to print a small piece in their upcoming magazine, I spent an hour talking on the phone with Jade Severs and a few weeks later they published this piece.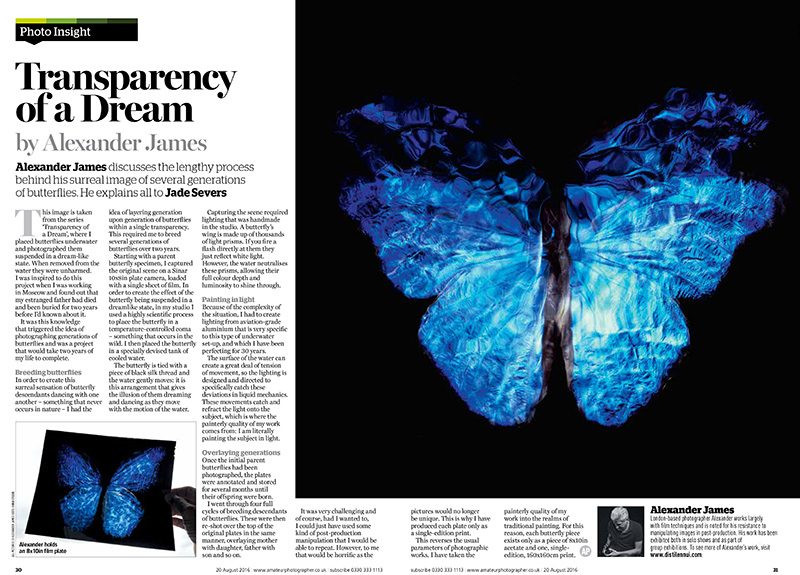 Unbeknown to me they also published the work online at the same time. link below....
https://www.amateurphotographer.co.uk/technique/photo_insight/photo-insight-alexander-james-93958

The image on their website was high resolution (plain stupid) with no accreditation and no protection from simple drag and drop copy techniques to stop people from simply copying my work direct from this the oldest photography publication in the world started in 1884. This was the only place that the image was ever published and now appears all over the web. The image has now been downloaded from their website many times and re-used, so that now I must sweep the net and find all such instances and ask them to do the job that the magazine failed to do - accreditation of the source article is so important. Remembering of course, the magazine was granted the use of these images free of charge, one would expect the least from them in return would be in adhering to professional standards and correctly attribute the work.

Here you can find past journal entries relating to Copyright & Moral Rights.
Since this article was published on my journal dated Monday 4th January 2021, the new owners of the publication (Kelsey Media) have upated the page with appropriate accreditation. Thank You.

YOU CAN SEE MORE INSTANCES OF COPYRIGHT BREACH WITH MY WORK HERE
contact us for more information - info (at) Distil Ennui . com
or register for a bi-annual studio update and lets stay connected.