Japanese Shou Sugi Ban preserves wood without chemicals leaving a textural & weather proof finish
Author: Distil Ennui | Post Date: 26-01-2021
I recently wrote about framing vintage proof prints stored in the studio for many years that is now operational in the studio, and how the wood is hand felled and air dried. The Rise of Shou Sugi Ban Shou has enjoyed a surge in popularity as of late. This ancient Japanese technique has been rediscovered and re-invented to produce beautiful results.

Originating in 18th century Japan, shou sugi ban is a particularly striking method of preserving wood by charring it with fire. Traditionally, this practice is used with Japanese cedar in order to weatherproof it. The wood is burned until the surface is charred. The result is a scorched finish with a magnificent charcoal black colour. The surface of the wood can take on a crackled or alligator skin look depending on the wood species and the burn intensity. Traditionally utilising only Cryptomeria japonica or Japanese cedar for its ability to accept a deep burn resulting in pest, rot, and fire resistance as well as becoming a natural water repellent and sun shield.
NOTE.. finished pieces with a shellac varnish can be seen on this updated post.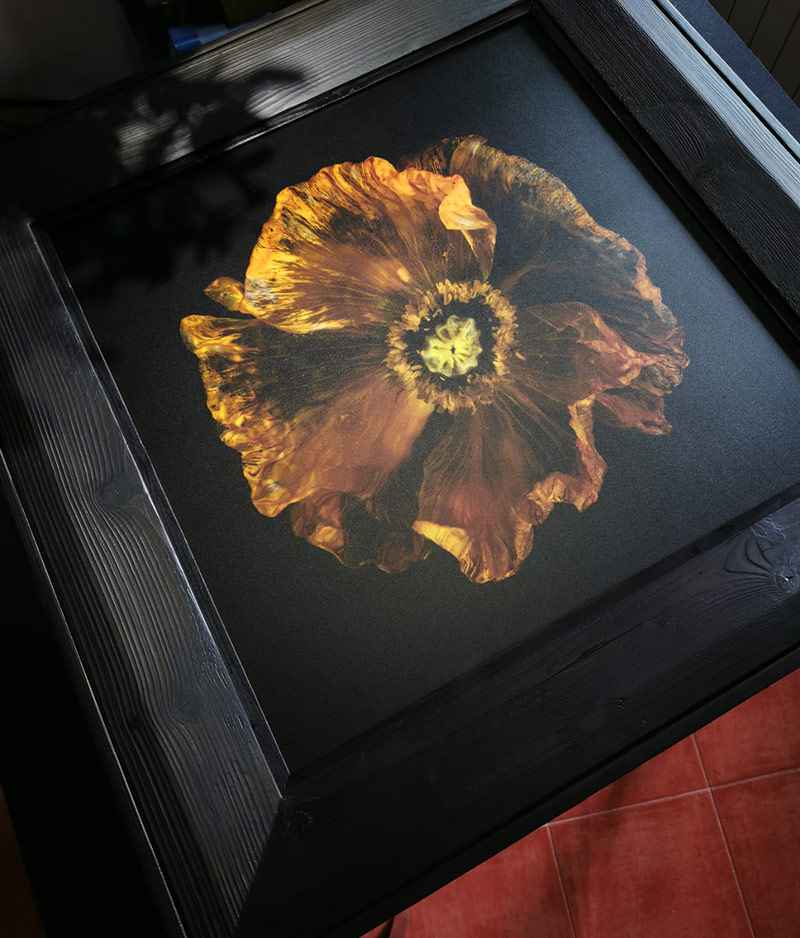 Here I am working with hand felled and sun dried pine wood, the most basic of woods and certainly difficult to get a credible finish; here takes on the semblance of far richer timbers. You would be forgiven to think the finished frames are made of oak or black heart Walnut.
For the process I am using a simple blacking to darken the bare wood firstly, for this I simply use a fine grind of fire charcoal and water suspense, then using a propane torch in very controlled sweeps acroos the timber making sure the flame eats into the wood by at least 2-3mm. Afterwards just dry brush clean and finish with a hand ground shellac suspense giving a matt final seal; and thats it. I hope you like them as much as I do; The last images are for a much larger piece with a second edge finished in a gloss black shellac stain, the plate is from the 'Transparency of a dream' series, a unique 60x60cms chromogenic print mounted to recycled aluminium; the finished frame is 90x90x4cms.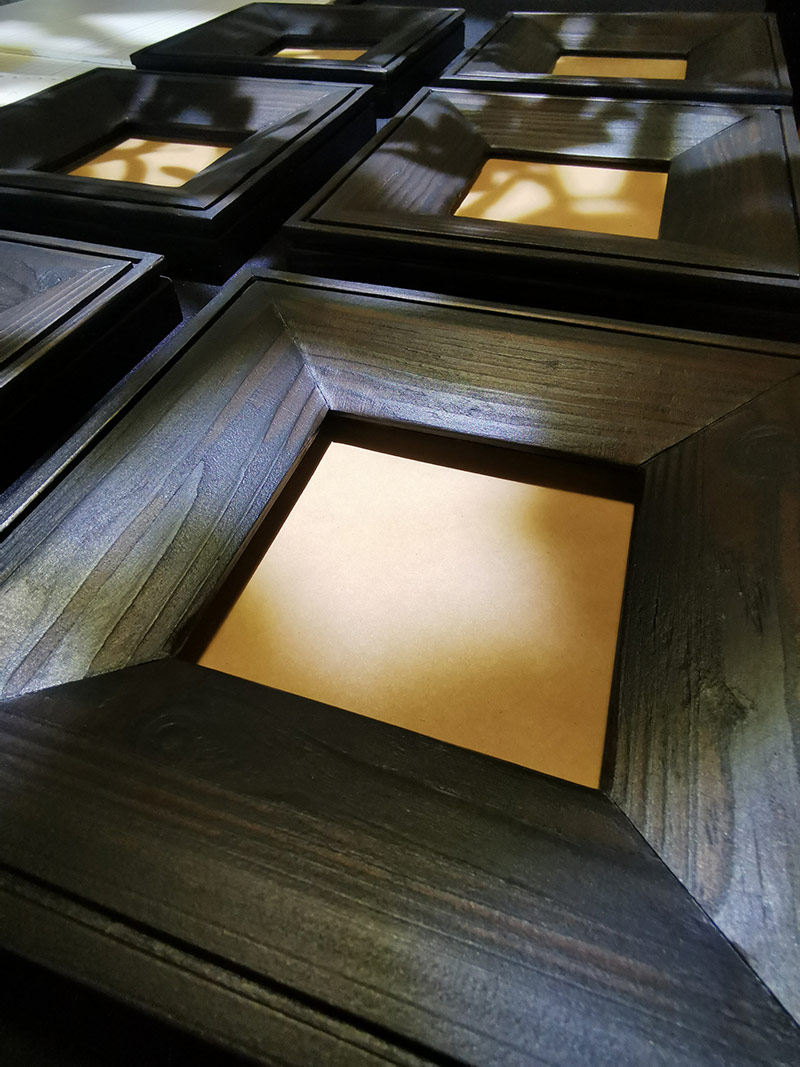 please visit the STUDIO FILM ARCHIVE to see how this process came together.
contact us for more information on available framed works - info (at) Distil Ennui . com
or register for a bi-annual studio update and lets stay connected.