Is Coca-Cola truly working towards a World Without Waste
Author: Distil Ennui | Post Date: 03-01-2022
Is Coca-Cola truly working towards a 'World Without Waste'? Every second, another ten tons of plastic is produced. 10% of all plastic produced ends up in the oceans, leading to predictions that, by 2050, there will be more plastic than fish in the sea. Faced with this global scourge, more and more businesses are promising to recycle, including the Coca-Cola Company, a group that sells 4000 plastic bottles around the world every second. Can we depend on the promises made by these multinationals? And is recycling the solution? We investigated the company's pledges and discovered that their promises are as sugar-filled as their products.

The massive plastic pollution footprint created by Coca- Cola, PepsiCo, Nestlé and Unilever, while a crisis in and of itself, is also contributing exponentially to the climate crisis. These four companies make little or no mention of emissions from disposal of their products or packaging in their climate change commitments knowing that often they end up either being burned or dumped. Yet they continue to sell billions of products in single-use bottles, sachets and packets in developing countries, doing so despite knowing that the waste isn't properly managed, their packaging therefore becomes pollution; and such pollution causes serious harm to the environment and people's health.

Such actions – with such knowledge is morally indefensible. An act of Ecocide.
Watch a short film where I discuss this problem and how I am working to create valid solutions to clean our oceans with Makers Place, the first carbon neutral recycling studio I setup in the Maldives. Below are a few sculptures I have made exclusively from coca cola aluminium cans, they are titles 'Drink Less' and 'Enjoy' a molotov coke petrol bomb.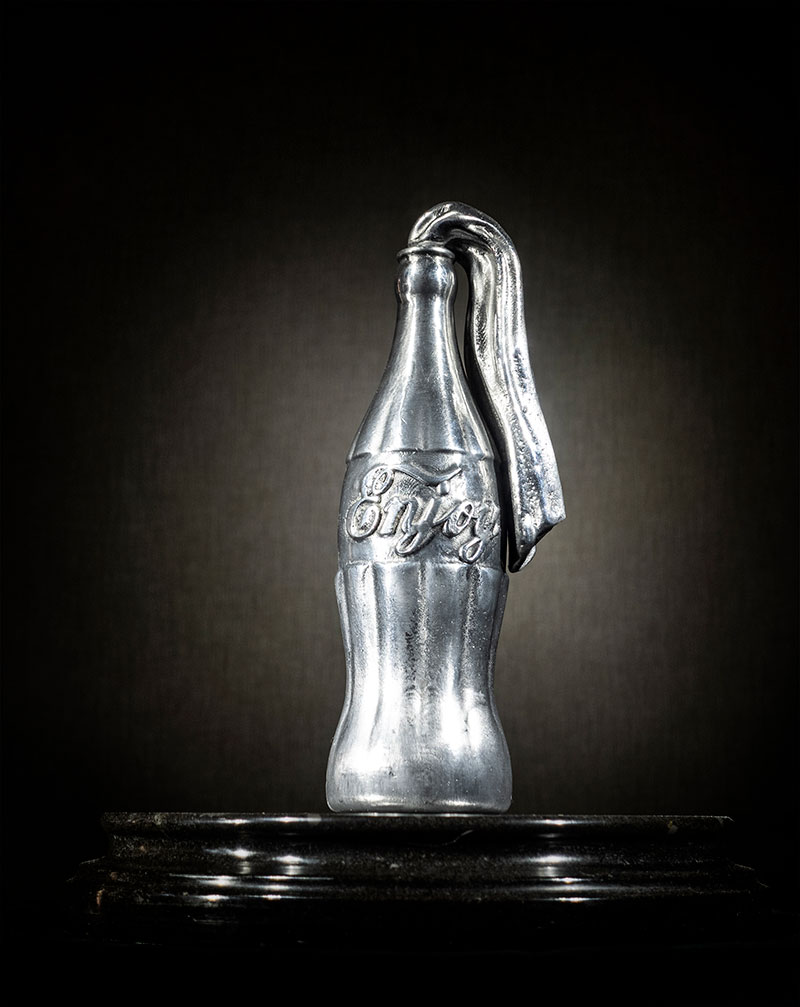 >>> Thank you for reading, please lets stay connected.
>>> discover more about my work here on the journal.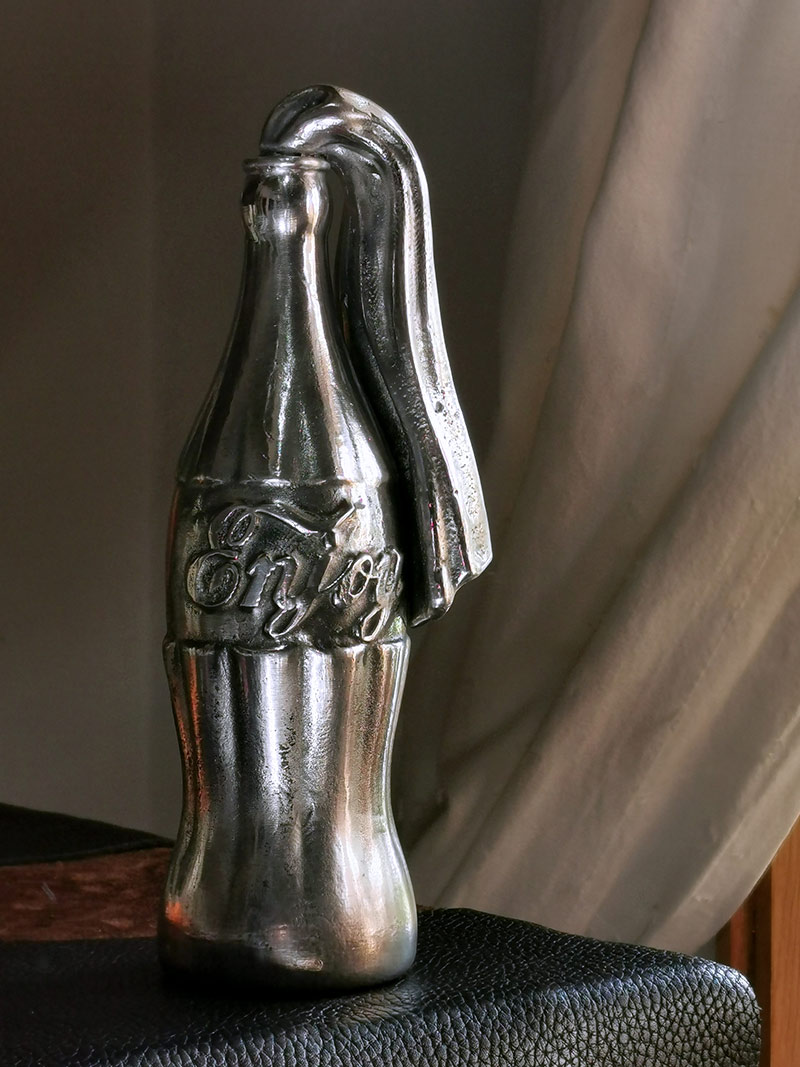 'Enjoy' Coke bottle molotov petrol bomb
weight +/- 1,280 grammes - h 20cms x w 6 cms
You can see how these pieces were made in detail
on this journal post
to explore their carbon neutral credentials.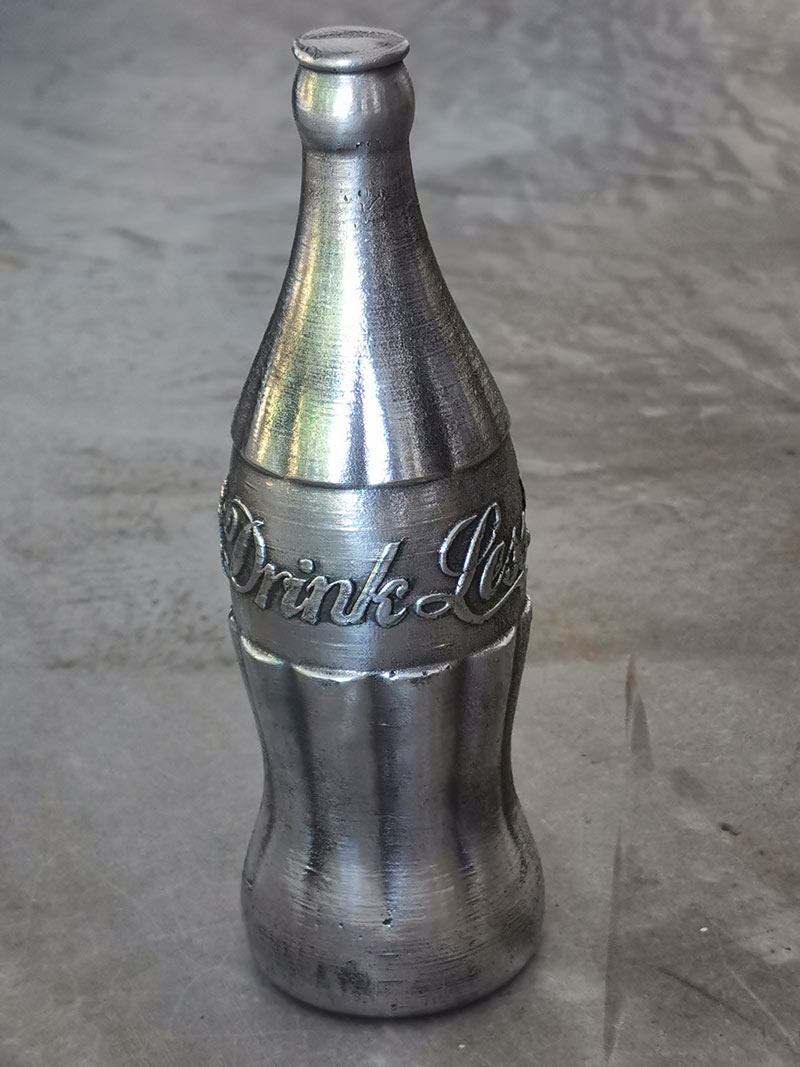 'Drink Less' full bottle
weight +/- 1.0 kilogramme - height 20cms width 6cms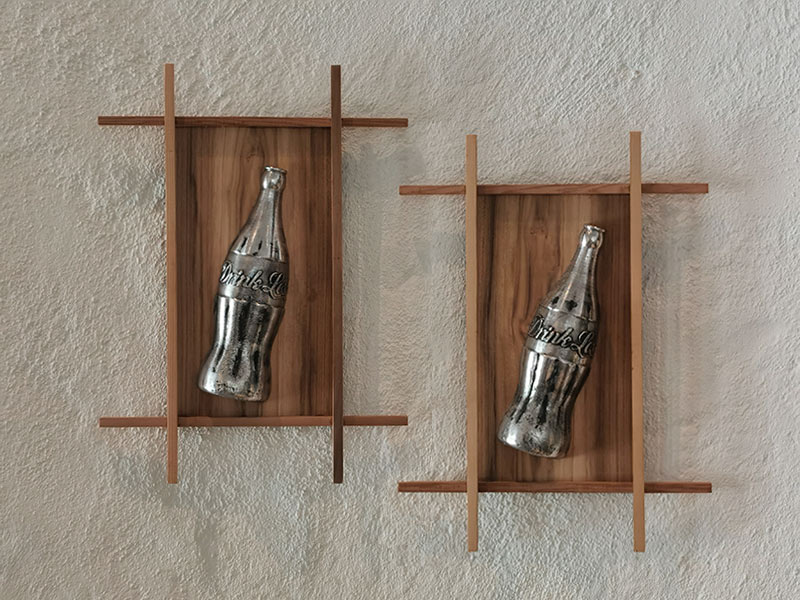 'Drink Less Half Measure', half bottle mounted to reclaimed cedar wood frame
unframed weight +/- 500 grammes - height 20cms width 6cms
in the frame weight +/- 620 grammes - height 35 width 27cms